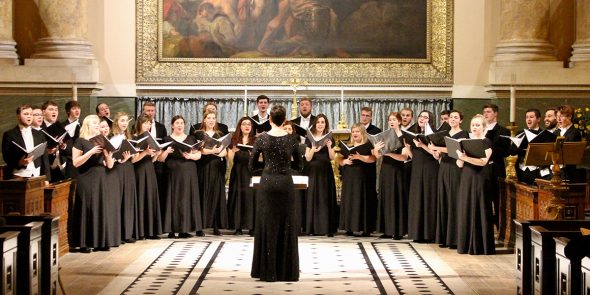 Drake's Chamber Choir made stirring music inside intimate chapels and soaring cathedrals during a two-week tour of England this month.
The 30-member choir represented the United States during a lunchtime public concert at St. Martin-in-the-Fields. Their voices climbed the 366-foot high-dome of St. Paul's Cathedral during Choral Evensong. Students performed in St. Michael's Without, a church located outside the ancient city walls of Bath (where an audio tour was narrated by best-selling author Bill Bryson, BN'77.)
Venues also included Lady Chapel at Ely Cathedral, a mid-1300s worship space that the choir's director, Professor of Music Aimee Beckmann-Collier, describes as having "probably the most breath-taking acoustics of any place the Drake singers have sung anywhere in the world."
As the choir entered the chapel, senior computer science major Charles Porter noticed how the room was brightly lit through clear-paned windows (the stained glass having been smashed during the Reformation), and almost completely insulated from ambient noise.
"These factors created an atmosphere I've truly never experienced before, and as my half of the choir sang informally for our tour guide, feelings of awe and reverence swept over me," notes Porter in the choir's travel blog. "It was one of the few times in my life that I believe I've truly found peace."
At the Parish Church of St. Nicholas in Witham, students forged an unusually strong bond with audience members, enjoying tea and biscuits with them during intermission.
"[Aimee Beckmann-Collier] has often said that our goal as a choir is to have 'all hearts and minds in one place,'" writes Paxton Gillespie, a senior music performance major. "Tonight, I think, we proved that such a feat could be accomplished, and it is a feeling that I hope I won't forget for the rest of my life."
This was the 12th international tour led by Beckmann-Collier since she joined the Drake faculty in 1989; she's also led 28 regional tours. Under her leadership, the choirs have raised more than $5 million to ensure that every member has the opportunity to travel abroad, regardless of their financial situation.
"I am very privileged to have offered life-changing tour opportunities to so many Drake students," says Beckmann-Collier, "and I am grateful to the hundreds of people who helped us make the tour a financial reality for every member of the choir, every single time."
Beckmann-Collier plans to retire at the end of the 2018-2019 school year—but not before the Drake Choir tours the south of France, Italy, and Austria in spring 2019; a limited number of choir alumni will be invited to join. For more information, contact Aimee Beckmann-Collier, aimee.beckmann-collier@drake.edu.