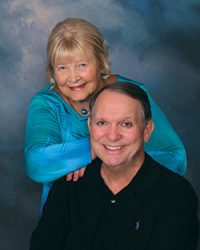 A dispute over popcorn started the romance between Gene and Jacque Fuller. Both were riding a high school bus back from an away basketball game with their friends. Students were amicably passing around a large bag of popcorn until Jacque and her friend decided the boys on the bus, Gene included, were hogging it. They started a chant demanding the treat.
Soon, popcorn began flying—and so did the sparks. "I had never seen him before that night," says Jacque, BN'68. "I was smitten from the beginning." The couple began dating shortly after and have been together ever since.
The Fullers recently celebrated their 50th wedding anniversary. They will reach another 50-year milestone this spring: the anniversary of their graduation from Drake University.
To recognize these monumental life events, the couple has established the Gene and Jacquelyn Fuller Endowed Scholarship by making a $50,000 gift to the University. Since Gene and Jacque were both business majors at Drake, the scholarship will support undergraduates in the College of Business and Public Administration.
In addition to their gift, the couple plans to attend the 50/60 Year Reunion, which will be held during Relays, April 26–28. The Fullers say they have fond memories from their time at Drake and look forward to connecting with former classmates.