Welcome to spring semester!
Spring semester 2018 brings a few changes to Meredith Hall . . .
It's a girl!
Weighing a teensy bit over 6 pounds, baby Coralin Jane Quinn this month joined mom Mallory Quinn, the SJMC dean's assistant; dad Ryan, and big brother Max. Mallory will be on maternity leave until spring break. Her job responsibilities are being divided among several people in her absence, so if you have a question, see one of the work-study students in Mer. 119 or SJMC administrative assistant Shari Tenney in Mer. 118 for guidance on where to go.
Step up and recycle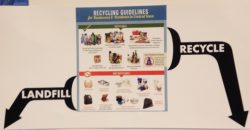 Drake facilities is working with the students in the LEAD concentration to pilot a new trash and recycling initiative around campus, including Meredith Hall. Trash and recycling bins have been removed from classrooms and new bins have been placed in the halls and lobbies around the building. Signs provide more information about what sorts of materials can and cannot be recycled. The initiative is designed to increase recycling on campus and decrease the number of plastic trash bags that end up in the landfill.
PR senior is semi-finalist for Fulbright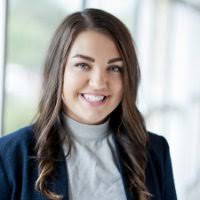 Congratulations to Meghan Walters, a senior international relations/public relations double major.
Meghan is a semi-finalist for a Fulbright scholarship to teach English in Bulgaria for 2018-19.
Her application was recommended by Fulbright's U.S.-based screening committee, and will be forwarded to the Bulgaria commission.
Notifications to finalists are usually made in March or April.
Beware of the flu
We're in the midst of an especially virulent flu season and we all must be careful to avoid infection. Get enough sleep, wash your hands frequently and take advantage of the hand sanitizer dispensers in the classrooms and around the building, especially after touching door handles, computer keyboards, restroom facilities and other commonly accessible objects. If you are feeling ill, stay home and contact your professors to arrange accommodations.
Professor is learning about event marketing at Super Bowl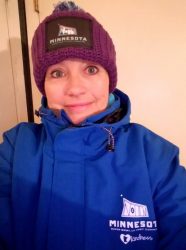 Advertising professor Dorothy Pisarski, shown left in her event gear, was chosen as a member of the welcoming team for the Super Bowl, which is being hosted by Minneapolis next weekend. Pisarski says she intends to bring lessons learned about event planning and promotion back into her classroom.
Internships available at Vote Smart
Vote Smart, a nonpartisan nonprofit organization near campus, is accepting and interviewing applicants for its Spring Internship Program. Opportunities are available in both the Research and Communications departments. This internship is unpaid, but it provides educational opportunities for interns to learn the day-to-day duties that each staff member performs, as well as credit opportunities through Drake. You'll get to work closely with staff and other interns on a range of projects. To apply go to http://votesmart.org/internships. Professor Jennifer Glover Konfrst is the faculty contact for internship credit for Vote Smart, so contact her (jennifer.gloverkonfrst@drake.edu) for more details.
Scholarship, award applications outside Mer. 119
Applications for SJMC scholarships and awards are available on the table outside Mallory Quinn's office, Mer. 119. There are scholarships available for the 2018-2019 academic year for all majors. The Professor Richard Tapscott Reporting Award recognizes outstanding student news reporting work in any medium and comes with a cash award. Seniors can apply for the Tapscott award. The application deadline for these scholarships and awards is Feb. 19.
In addition, the Radio Television Digital News Foundation (RTDNF) has extended the application deadline for its eight scholarships and four fellowships. Apply here.
Staub judges national magazine contest
Magazine professor Catherine Staub traveled to New York City during January Term to once again serve as a judge for the American Society of Magazine Editors' Ellies, the national awards that recognize excellence in print and digital magazines. Staub is one of only a handful of professors who are asked to join journalism industry leaders to judge this prestigious contest.
New online master's program launches
A new year also brings a new SJMC program: The online Master of Arts in Mass Communication has begun enrolling its first students. The program offers specializations in Brand Communication, Communication Leadership, Public Policy and Advocacy, and Health and Science Communication. For more information, see associate dean Kelly Bruhn or the information on the SJMC website.
Annual career fair set for Feb. 8
The annual Drake career fair will be Thursday, Feb. 8, 3-6 p.m. in Olmsted Center. Reserved time for seniors is 3-3:30 p.m.; 3:30-6 p.m. is open to all students. See www.drake.edu/career/events for more information and a list of participating employers.
Have a news item for the Memo?
The SJMC Monday Memo is a weekly newsletter to keep members of the wider SJMC community updated on School news, achievements, events and opportunities. If you have an item for the Memo, please send it to Dean Kathleen Richardson (kathleen.richardson@drake.edu) or SJMC webmaster and multimedia professor Chris Snider (christopher.snider@drake.edu). SJMC alums and other professionals can also contact Chris to have the Memo delivered via weekly email.
The School of Journalism and Mass Communication strives to create a community of scholars that represents the complexity of the human experience in regards to race, ethnicity, sex, sexual orientation, economic status, gender identification, religion, age and physical abilities. We are committed to creating a welcoming and supportive environment for all our faculty, staff, students and visitors, and celebrating our differences through the lens of the First Amendment value of freedom of expression.