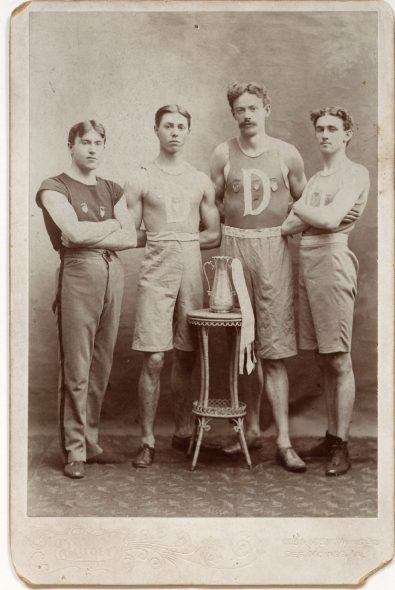 Thrown in with a pile of junk, an irreplaceable relic from Drake's early days seemed destined for the scrap heap. Donated to an Indianola, Iowa, auction house, alongside rusted silverware and old silver-plated plates and trays, it was largely ignored. Luckily, it happened to attract the attention of an alumnus with a passion for history.
"Even though it was hiding in plain sight, it was among the stuff that people usually throw out," says Richard Clarke, BN'73. "But things that are different catch my eye." With chipped silver plating and faded engravings, the Drake trophy looked like any other traditional award. But the "Drake University" etching enticed Clarke, and he asked the auctioneer to pull out the piece to be bid on individually. With an investment of $10, Clarke walked out with the trophy in hand.
He promptly donated it to Paul Morrison, the late legendary Drake Athletics historian, and with help from Drake University Archives, both started digging into its history. The trophy that was almost passed over and thrown away appears to be the very first athletics award ever won by the University.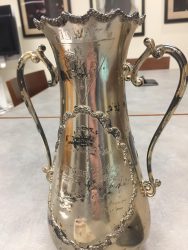 Dating back to the 19th century, the traveling trophy was awarded to winners of the YMCA's statewide pentathlon competition. At the time, Drake had no organized athletics department, and students competed off-campus in non-University affiliated events. The trophy first went to Drake in 1896 and ended up with the University again in 1899, at which time the trophy was retired. Its first Drake winners were C.B. Hamilton, A. Clay Gwinn, Edward Paul Jones, and their coach, who is only listed as a last name, McFarland. Those are the four men who stared back at Hope Bibens, assistant professor of librarianship and political papers archivist, when she stumbled upon a photograph while doing research for a completely unrelated project—yet another coincidence.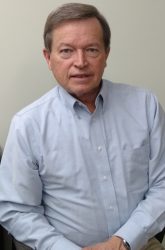 There are other important Drake names on the trophy. W.J. Monilaw, one of the University's first football coaches, won the trophy the 1895 and 1897 for Cedar Rapids. Channing Smith, who is still honored with an annual banquet ending the football season, is listed with the 1899 winners.
After Smith's win, the trophy appears to have stayed with the University for a few years and can clearly be seen in a photo of an athletics trophy case from 1915. How Drake lost the trophy and how it ended up as part of the 2017 auction is still a mystery.
As for Clarke, he's just glad that Drake recovered an important part of its history. "I'm not even going to ask for my $10 back," he jokes. "Just put down my donation as priceless."