J Term class visits Drake's Mexican partner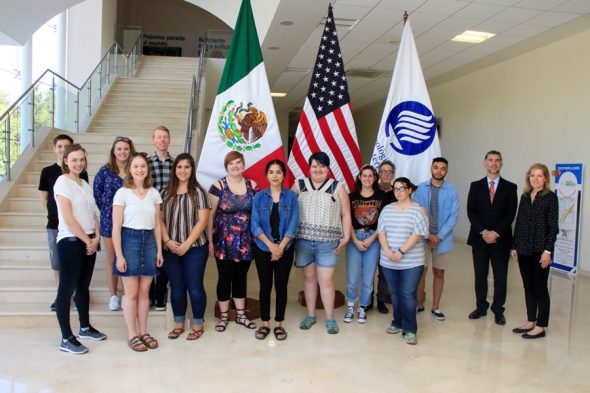 SJMC internship coordinator Carlyn Crowe, far right, and English professor Jody Swilky, back row fourth from right, are leading a January Term class to Monterrey Tec, a University partner institution in Mexico. The class is examining the "Americanization of Mexico."
Spring assistantships available with University Communications
University Communications has three opens for student assistants for the spring: a general public relations position; a position specializing in fine arts coverage, and a job to help produce digital and social content for the University's website and social media platforms. All positions pay $9/hour; hours are flexible and range from 6 hours/week to 20 hours/week. For more information on essential job functions and how to apply, see the job postings on Drake Media Gigs. The application deadline for priority consideration is Friday, Jan. 26. Jobs start the week of Jan. 29.
Apply for scholarships, awards
Applications for SJMC scholarships and awards will be available on the table outside Mallory's office, Mer. 119, starting Jan. 29. There are scholarships available for the 2018-2019 academic year for all majors. In addition, the Professor Richard Tapscott Reporting Award recognizes outstanding student news reporting work in any medium and comes with a cash award. The application deadline for these scholarships and awards is Feb. 19.
Have a news item for the Memo?
The SJMC Monday Memo is a weekly newsletter to keep members of the wider SJMC community updated on School news, achievements, events and opportunities. If you have an item for the Memo, please send it to Dean Kathleen Richardson (kathleen.richardson@drake.edu) or SJMC webmaster and multimedia professor Chris Snider (christopher.snider@drake.edu). SJMC alums and other professionals can also contact Chris to have the Memo delivered via weekly email.
The School of Journalism and Mass Communication strives to create a community of scholars that represents the complexity of the human experience in regards to race, ethnicity, sex, sexual orientation, economic status, gender identification, religion, age and physical abilities. We are committed to creating a welcoming and supportive environment for all our faculty, staff, students and visitors, and celebrating our differences through the lens of the First Amendment value of freedom of expression.