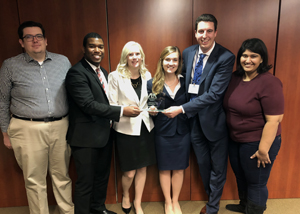 Drake University Law School's team was crowned national champions at the American Bar Association (ABA) Law Student Division Arbitration Competition on Jan. 20.
The team consisted of second-year student Olivia Brooks and third-year students Jordan Nickerson, Rachael Irlbeck, and Gabe Walsh. Ana Dixit, LW'16, and Ronald Forsell, LW'15, coached the team.
"I could not be more proud of the students and coaches on this team," said Jerry Anderson, dean of Drake Law School. "Their victory showed that Drake Law School prepares complete professionals who have the knowledge and skills to succeed at the highest level."
Drake earned its spot at the national finals after winning the regional competition in November.
Held at the ABA Headquarters in Chicago, the national finals pitted Drake against other top-place teams from regional competitions across the country, including Mississippi College School of Law and the University of Missouri School of Law in the preliminary rounds and Liberty University School of Law in the semi-final round.
The team ultimately defeated Michigan State University College of Law in the championship.
"I am so proud of this team and all the hard work they put in over the season. On top of their busy class and work schedules, they dedicated several hours a week to practice, and it really showed at the competition," Forsell said.
"The students that are part of this program came in with so much talent that, as a coach, my job was just to refine what was already there," Dixit said. "I'm excited for the school, the program, and especially for these students, who now see that dedication, determination, and diligence pay off in a big way."
The ABA Law Student Division Arbitration Competition simulates a realistic arbitration hearing. Students work in teams of four—two attorneys, two witnesses—to prepare and present an arbitration case against an opposing party.
A panel of judges evaluate and score the teams based on the quality of their presentations, including opening statements, witness examinations, exhibit introductions, evidentiary presentations, and summations.
Drake has competed in the national finals the past four consecutive years, although this marked the first time Drake won the competition. Last year, Drake placed second in the national finals.
This also marked the fourth time in school history a competition team won the national championship. Drake won the national ABA Client Counseling Competition in 2013, the National Moot Court championship in 2001, and the national ABA Negotiation Competition in 1994.
"Every year I am impressed by the quality of students Drake is producing," Forsell said. "I look forward to returning next year to defend our national championship."