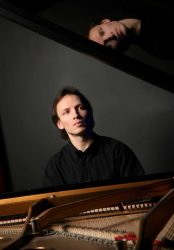 Roustem Saitkoulov will present the next concert of Drake University's Keys to Excellence Piano Series at 7:30 p.m. Monday, January 29, in Sheslow Auditorium.
The concert is free and open to the public, and will include the following works:
Rachmaninov: Moments Musicaux, Op. 16 & Variations on a Theme of Corelli, Op. 42
Mussorgsky: Pictures at an Exhibition
"Intelligence, nobility, elegance and transparency distinguish pianist Roustem Saitkoulov's technical and musico-structural approach, enabling him to deliver a powerful musical statement by way of well-balanced interpretations."                                                                                                          – Sir Neville Marriner
Keys to Excellence Piano Series 2017-18
JANUARY 29: Roustem Saitkoulov – Russia
FEBRUARY 5: Asaf Zohar – Tel Aviv University
MARCH 26: Marina Horak –  Academy of Music in Ljubljana
APRIL 23: Peter Miyamoto – University of Missouri (Columbia)
PAST PERFORMANCES
SEPTEMBER 25, 2017: Steven Spooner – University of Kansas
NOVEMBER 6, 2017: Arthur Greene – University of Michigan
NOVEMBER 27, 2017: Nicholas Roth – Drake University
All performances begin at 7:30 p.m. in Sheslow Auditorium and are free and open to the public.
Born in Kazan (Tatarstan, Russian Federation), Roustem Saitkoulov enjoys the great Russian School of piano. He entered the Kazan Conservatory at the age of 6; later he went on to study with Elisso Virsaladze at the Tchaikovsky Conservatory in Moscow, where he received his Soloist's Diploma. He furthered his studies at the Munich Music High School.
He is the prizewinner at numerous international competitions, including the Busoni Competition, Bolzano, Italy; UNISA (University of South Africa) Competition, Pretoria; Concours Géza Andà, Zurich, Switzerland; Marguerite Long Competition, Paris; First Prize in the Rome Piano Competition; and Grand Prix of the Montecarlo World Piano-Masters.
Saitkoulov frequently performs with the world's most renowned orchestras, such as the Royal Philharmonic Orchestra London, Monte Carlo Philharmonic Orchestra, Prague Symphony Orchestra, Sinfonia Varsovia, RAI Symphony Orchestra Torino, Tonhalle Orchestra Zurich, St-Petersburg Philharmonic Orchestra, Tokyo New City Orchestra and Beijing Symphony Orchestra.
His concerts and recitals take him all over the world: to Russia (International House of Music, Moscow and Philharmonia Hall of St Petersburg), China (NCPA Beijing and Guangzhou Opera House), Japan (Great Hall of the Metropolitan Art Space and Osaka Symphony Hall), Chile (Frutillar), Argentina (Teatro Colón and CCNK), Mexico (Palacio de Bellas Artes), Australia (Sydney Opera House), the United States, Canada, South Africa, and throughout many of the most important venues in Europe.
He has been invited to the world's leading festivals including Montreux, La Roque d'Anthéron, Yokohama, Bologna, Merano, Brescia-Bergamo, Edinburgh, Piano aux Jacobins (Toulouse, France), Festival de Radio France-Montpellier, Menton or Printemps des Arts de Montecarlo.
His music has been broadcast by France Musique, Radio Classique, DRS 2 (Switzerland), NDR Kultur (Germany) as well as on television programs in France (France 2, France 3 and Mezzo) and on the international European channel 3 SAT.
He recorded several solo piano albums for EMI Classics and Dinemec Classics. In 2012, Master Chord Records released two Chopin Piano Concertos with the Royal Philharmonic Orchestra conducted by Grzegorz Nowak. In 2014, IndéSens label issued his recording of the Piano Concerto No. 1 by Dmitri Shostakovich.
Saitkoulov is a regular partner of Maxim Vengerov.
The Keys to Excellence Piano Series was created to raise awareness of Drake's fundraising efforts for the purpose of 70 brand new Yamaha pianos for the music department. It brings internationally acclaimed artists to perform on the Yamaha CFX concert grand at Drake University.
The series is supported by Yamaha, West Music, Civic Music Association, and Drake University. For more information, contact Nicholas Roth at 515-321-5947 or nicholas.roth@drake.edu
All performances begin at 7:30 p.m. in Sheslow Auditorium and are free and open to the public.