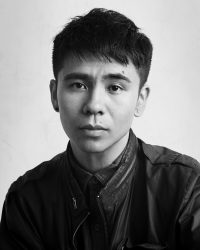 One of the world's most influential young poets and essayists will deliver a free public reading at Drake University.
Ocean Vuong has been named a leading global thinker by Foreign Policy magazine—alongside such noted figures as Hillary Clinton, Ban Ki-Moon and Warsan Shire—and one of BuzzFeed Books' "32 Essential Asian American Writers."  His bestselling book, Night Sky with Exit Wounds, was named a New Yorker Best Books of Poetry in 2016, and this week was awarded the prestigious TS Eliot prize for poetry.
Vuong's reading is scheduled for 7 p.m. Wednesday, Feb. 21, as part of the Susan Glaspell Writers & Critics Series at Drake University. The event will be held in the Reading Room of Cowles Library, 2725 University Ave.
"We are thrilled to have Ocean Vuong as part of the series," said Assistant Professor of English Yasmina Madden. "His work, which surrounds immigrant identity, sexual identity, and the dynamics of family, among other subjects, is so rich in complexity and lyricism, and I think his work will resonate greatly with students as well as community members."
New York Times critic Michiko Kakutani lauded the work as one of her favorites of the year, noting, "Mr. Vuong—who was born on a rice farm outside Saigon in 1988 and was the first in his immediate family to learn to read—writes with a musical appreciation for the sound and rhythm of words."
Foreign Policy notes Vuong "serves as a reminder of how essential immigrant voices are to the American landscape," adding that his poems "unflinchingly face the legacies of violence and cultural displacement but they also assume a position of wonder before the world."
Weaving poetry with personal stories of his childhood, Vuong also received acclaim from The New Yorker, The Guardian, The Huffington Post, NPR, and other national and international publications.
Vuong's writings have appeared in The Atlantic, The Nation, New Republic, The New Yorker, The New York Times, The Village Voice, and American Poetry Review, which awarded him the Stanley Kunitz Prize for Younger Poetz.