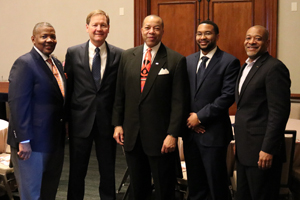 Drake University Law School has entered into a partnership with 100 Black Men of America, Inc., a global nonprofit organization dedicated to the intellectual development and economic empowerment of the African American community.
Established in 1963, 100 Black Men of America, Inc. provides services in education, health and wellness, leadership development, and more to African American youth. The organization's core service is mentorship, with the largest network of African American male mentors in the United States.
100 Black Men of America, Inc.'s Collegiate 100 auxiliary program is comprised of college campus-based organizations that offer continued mentorship as students transition from high school to college.
Under the agreement, Collegiate 100 students who meet Drake Law School's established admission criteria will be guaranteed admission and scholarship assistance to the Law School's Juris Doctor (JD) program.
"We are very pleased and excited to announce our partnership with Drake Law School," said Thomas W. Dortch, Jr., chairman of the board of 100 Black Men of America, Inc. "As education and mentoring have always been a priority with our members worldwide, we look forward to this partnership that will benefit our students representing the communities in which we serve."
The partnership, which will begin with students enrolling at Drake in fall 2018, is part of an ongoing effort to increase diversity among the Law School's student body.
"Diversity and inclusion are a core part of our mission and vital to the success of the Law School," said Jerry Anderson, dean of Drake Law School. "We strive to actively recruit a variety of backgrounds, ideas, and identities, which will enrich the educational experience of all our students."
Drake Law School has been committed to diversity since its inception more than 150 years ago. In 1925, Drake Law alumnus Charles Preston Howard co-founded the National Bar Association, which is now the nation's largest association of predominantly African American lawyers and judges. The Drake Law Library houses the association's archives.
Drake Law School is a partner school with the Council on Legal Education Opportunity (CLEO), a national organization that seeks to expand opportunities for minority and low-income students to attend law school. The Law School received a CLEO Diversity Award in 2012 and was inducted into the inaugural William A. Blakey Diversity Pipeline Architects in 2013.
In fall 2017, Drake Law School launched the Law Opportunity Leadership Program, which partners with Des Moines-based employers to offer internships, mentorship, and leadership training to first-year students from underrepresented backgrounds.
In addition to Drake Law School's agreement with 100 Black Men of America, Inc., the Law School has partnerships with two Historically Black Colleges and Universities (HBCUs): Lincoln University in Jefferson City, Mo., and Lincoln University in Lincoln University, Pa.
For more information, contact Alicia Hilligas, assistant director of admission and diversity initiatives, at 515-271-2483 or alicia.hilligas@drake.edu.