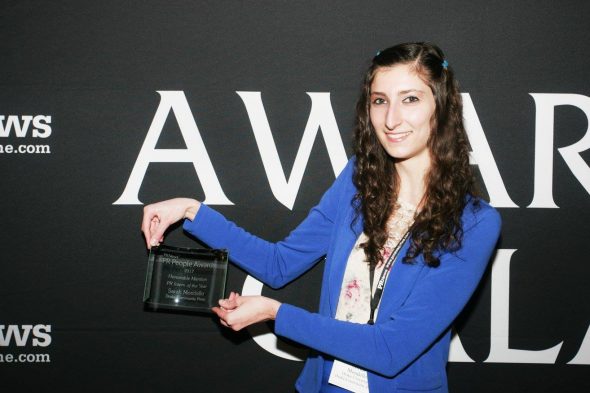 Two Drake University seniors received honors during the PR News PR People Awards Luncheon at the National Press Club in Washington, D.C., this month.
PR News' PR People Awards is an international competition that recognizes the top talent whose work is making an impact in the communications field. Award recipients represent the professionals who are responsible for outstanding PR achievements made in the past year. 
Maddy Gildersleeve, a marketing and public relations double-major from Vandnais Heights, Minn., was named PR News Student of the Year. 
Sarah Mondello, a public relations and writing major with a minor in graphic design from Crystal Lake, Ill., received honorable mention for PR Intern of the Year. 
The PR News Student of the Year award recognizes "an outstanding student who has demonstrated leadership, talent and passion" for public relations and communications.
Gildersleeve is a straight-A student and the founder of Panhellenic Philantropy, a twice-yearly fundraiser that has raised more than $5,000 for educating and empowering girls in the developing world.
"When I heard the news that I had won, I couldn't stop smiling," Gildersleeve said. "Knowing that all my hard work in the classroom and during my internships over the past few years had earned me this recognition was such a great feeling."
Gildersleeve has complemented her exceptional academic achievement and philanthropy with marketing and communications-related internships at Bankers Trust, Power Life Yoga, FCB Chicago, Meredith Corporation, Hays Companies, and Johnson Consulting Services.
"The professors in Drake's journalism school always say, 'We aren't preparing you for your fist job, but for your third,'" Gildersleeve said. "They really set students up for long-term success by teaching us critical thinking skills, real-world problem solving abilities, and how to work on challenging teams. I would recommend Drake for any student wanting to prepare him or herself to be an impactful professional, not just be someone with a 'job.'"
Kelly Bruhn, associate dean of the School of Journalism and Mass Communication, said, "We are blessed with engaged students in our public relations major at Drake, and Maddy has been a leader among them. From her first class freshman year, she has pushed herself—and those around her—to ask smart questions of clients and develop creative solutions to their communications challenges. She has developed an amazing portfolio in her time on campus, and I look forward to watching her lead our industry into the future."
PR Intern of the Year award nominees must establish themselves quickly as self-starting members and idea generators for a communications team; exhibit strong writing skills, professional demeanor, and smart use of digital tactics; demonstrate an interest in pursuing a PR career; and provide an example of a strong campaign, initiative, or volunteer activity that shows their passion for the field and potential talent as a professional. 
Mondello was selected for her work at Drake Community Press (DCP), a two-year curriculum-based publishing laboratory, nonprofit, and community engagement experience.
"I'm very thankful for [the Drake University School of Journalism and Mass Communication's] thoughtful nomination and the opportunity to represent Drake and the Drake Community Press while learning from seasoned PR professionals at the award ceremony," Mondello said.
Distinct from the typical university press model, DCP prides itself in the community aspect of book publishing. DCP partners with the community to produce nonfiction publications.
Over the past two years, Mondello has been responsible for editing and promoting its latest book release, A Spectrum of Faith: Religions of the World in America's Heartland. During this time, she has discovered the value of crafting promotional materials for use at public events. 
"As my first steps toward becoming a literary PR professional, I have cherished my time with DCP," Mondello said.
Mondello's supervisor, Professor of English Carol Spaulding-Kruse, said Mondello has been instrumental in her work at the Press.
"Sarah designed two strong pieces of collateral at a last-minute point in our book production; she kept apace with an intense round of editing lasting several weeks as we finalized the chapters for publication—all while juggling a very full load of coursework and extra-curricular activities. And she did all of this with professional polish in her materials, presentation, and attitude. I began to rely on Sarah's astuteness, flexibility, and know-how. Her desire for achievement is unfailingly ethical and sane," Spaulding-Kruse said.
"I'm thankful for Carol's mentorship and guidance," Mondello said.
Matthew Thornton, assistant professor of public relations, nominated Mondello for the award.
"She is certainly deserving of this recognition. Her academic performance and work on behalf of the Drake Community Press is very impressive and speaks to her commitment as a student and intern," Thornton said.
Bruhn said Mondello was their first choice during the PR faculty retreat over the summer.
"We were so happy to nominate her. I'm so grateful that they recognize her hard work internationally," Bruhn said.
Jennifer Glover Konfrst, assistant professor of public relations, said "this is a wonderful testament to her hard work, dedication, and talent."
Upon graduation in May, Mondello plans to supplement being a novelist (a profession she had already begun with a debut book release at age 18) with a career as a book publishing professional. 
"In Sarah, you have not only a highly ambitious and capable young person but someone who will emerge as a leader," Spaulding-Kruse said.