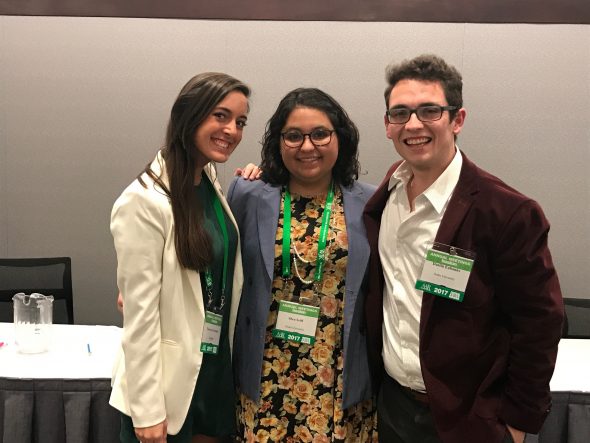 Three Drake seniors had the opportunity to present at a national conference for the world's largest association of scholars in the field of religious studies.
Dustin Eubanks, an international relations and religion double-major from Waukee, Iowa; Tierney Grisolano, a biochemistry, cell and molecular biology major from St. Louis, Mo.; and Shea Seiff, an anthropology/sociology and law, politics, and society double-major from South Elgin, Ill.; spoke on a panel discussion at the annual conference of the American Academy of Religion in Boston, Nov. 18-21.
They discussed their role in producing A Spectrum of Faith: Religions of the World in America's Heartland, a student-produced book that explores 15 different faith communities in central Iowa.
"A Spectrum of Faith gained a lot of interest because when people think of Des Moines, they think of corn, they think of politics; they don't normally think of religious diversity," Seiff said. "Spectrum of Faith revealed to the world the multiplicity of religion that Des Moines has to offer."
Seiff, Grisolano, and Eubanks each spoke for 10 minutes about their experiences in creating the book. The session also included a formal Q&A session. After the session—which lasted 90 minutes—many audience members stayed an additional hour to ask more questions of the students, said Professor Tim Knepper, chair of the department of philosophy and religion.
"Audience members were also blown away by the composure and insight of the students," Knepper said. "I am so very proud of them—not just for the project, but for their continuing maturation as interfaith leaders." 
A Spectrum of Faith was produced over a two-year period by five classes, more than 60 students, an editorial board of 10 local storytelling editors, and an advisory board of 10 community leaders. The book was released in April 2017 by Drake Community Press, a community publisher at Drake University.
"I think the project is so interesting to people because of how different it is than normal religion projects," Seiff said. "It's one thing to read a textbook about how Judaism is practiced; it's one thing to research the local Jewish communities in Des Moines. But it's an entirely different experience to join the religious community, to attend their services, to meet the faces of that community."