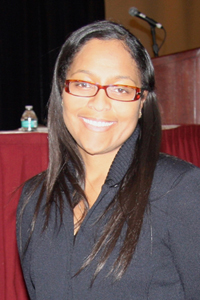 As an attorney at the Los Angeles County Public Defender's Office, Nicole Rommero, LW'13, never has a dull moment.
Rommero is assigned to misdemeanor offenses at the oldest and one of the largest public defender's offices in the United States. Her calendar is filled with pretrials, trials, probation violations hearings, bench warrant hearings, suppression motion hearings, and more.
"I handle all types of offenses ranging from domestic violence and prostitution to battery, assault with a deadly weapon, and DUI cases," Rommero says.
The LA-native credits her Drake Law education for preparing her for this role.
After earning her undergraduate degree at the University of San Francisco and her master's degree at the University of Southern California, Rommero found herself in Des Moines, Iowa. She says she was attracted to Drake Law School's focus on practical education, as well as the "attentiveness and openness" of Drake Law faculty, staff, and students.
"After I was accepted to Drake, Professor [Russell] Lovell called me, and we talked for an hour about civil rights, Drake Law School, and college football," Rommero says. "I knew that Drake was the school for me even more after that phone call."
As a student, Rommero took advantage of every opportunity to get involved. She served as a student attorney in Drake's Criminal Defense Clinic, a student lobbyist for the Joan and Lyle Middleton Center for Children's Rights, and a legal intern for Iowa State Senator Jack Hatch.
During her summers, she worked in Washington, D.C., first as an intern for the Civil Rights Division of the U.S. Department of Justice, and later as a law clerk for an administrative judge at the U.S. Equal Employment Opportunity Commission.
She was also a member of Drake's negotiations team, ABA Moot Court team, and American Constitution Society, in addition to serving as a Public Service Scholar and Integrated Study Groups (ISG) leader.
"I really enjoyed my time at Drake. I have a lot of very fond memories about the school and Des Moines," Rommero says. "It's important to get as much experience [as you can] so that you can explore different areas of law."
After earning her JD, Rommero worked for a government health agency providing healthcare and other social services to incarcerated individuals.
In 2014, voters in California passed Proposition 47, which reduced certain felonies to misdemeanors. Rommero worked with the LA mayor's Office of Re-entry to organize town hall meetings and share information about the initiative.
One year later, Rommero's department took over healthcare within the LA county jail. As one of the leads in the newly-created Correctional Health Services Unit at the Department of Health Services, Rommero assisted the director in managing the day-to-day operations, negotiated memorandums of understanding between the departments, and oversaw a $5 million contract budget.
"My work afforded me the opportunity to learn how clients are impacted once they are in custody, awaiting trial, and sentenced, as well as the issues that impact them after they leave the system," she explains.
Rommero says this unique perspective into the lives of clients helped her when she applied for the Public Defender's Office. She was hired as a deputy public defender in February 2017.
Although she faces challenges, Rommero says her job allows her to fight for individuals from vulnerable communities.
"The most rewarding part of my job are the moments when your client turns to you after a win or loss and says, 'Thank you, you really fought for me and you listened to me,'" Rommero says. "At the end of the day, everything you do is for your client."