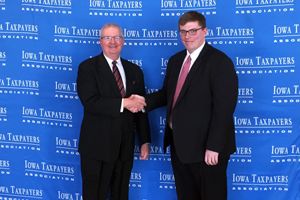 The Iowa Taxpayers Association announced that Dillon Malone, a third-year student at Drake University Law School, was chosen as the recipient of the 2017 Linda S. Weindruch Scholarship.
Founded in 1935, the Iowa Taxpayers Association is the state's leading nonpartisan business tax policy resource. Its mission is to educate and inform Iowans about sound fiscal policy; provide state policymakers with objective research about the impact of tax and spending policies; and advocate for rational public fiscal policy as it relates to business and corporate taxes.
According to the Iowa Taxpayers Association's press release, the Linda S. Weindruch Scholarship recognizes "outstanding accomplishments and educational pursuit of experiences promoting and protecting the principles of fair business and law policies."
The scholarship is awarded in memory and in recognition of Linda S. Weindruch, who passed away after a long battle with multiple sclerosis in October 2004.
Weindruch was a 1983 alumna of Drake Law School and a longtime member of the Iowa Taxpayers Association. She served on the association's board of directors for 10 active years and was chair of the Iowa State Bar Association's Taxation Section. In 1994, Ms. Weindruch received the Iowa State Bar Association President's Award in recognition for her work involving the passage of the Iowa Taxpayers' Procedural Bill of Rights.
The award was presented to Malone at the Iowa Taxpayers Association's Annual Meeting & Tax Symposium luncheon on Dec. 7.
A Dow City, Iowa-native, Malone currently serves as the editor-in-chief of the Drake Law Review. He has interned with the Iowa Finance Authority and Meredith Corporation, and served as a teaching assistant for the Legal Research and Writing program at the Law School. He currently clerks for Carney & Appleby, P.L.C.
Malone received his bachelor's degree in politics from Drake University. As an undergraduate, he was involved with the Drake College Republicans and Tau Kappa Epsilon fraternity, holding leadership positions in both. From 2012-2015, Malone clerked in the Iowa House of Representatives for Rep. Ron Jorgensen.