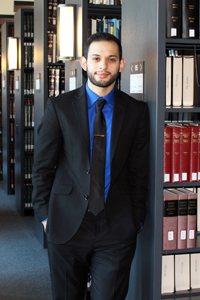 Raziel Argueta comes from a family of immigrants. His parents both fled Guatemala during the country's civil war, seeking new lives in the United States.
Today, Argueta is a second-year student at Drake University Law School and a law clerk at the Law Office of Sonia Parras, PLLC in Des Moines, Iowa, where he works on immigration cases.
"I wanted to practice in a field where I could wake up everyday and feel a sense of purpose," Argueta says. "Once immigration became more of a political and controversial issue in this country, it emboldened me to pursue a career in law and particularly in that area."
A native of Phoenix, Ariz., Argueta attended Northern Arizona University, majoring in criminal justice with a minor in chemistry.
He learned about Drake Law School from his undergraduate advisor. While researching the school and Des Moines, Argueta found a "wide gap that exists for people seeking help with immigration and the amount of immigration advocates in Iowa."
Determined to make a difference, Argueta decided to enroll at Drake.
During his first year of law school, Argueta's advisor connected him with Sonia Parras, a local immigration and family law attorney who specializes in citizenship, naturalization, defense against deportation, and special immigration programs such as DACA. Argueta applied and was hired at Parras' office in January 2017.
"I am responsible for meeting with clients, drafting declarations, filling out immigration applications, preparing clients for their upcoming merit hearings, and of course, research on any immigration issues that arise on a case," Argueta explains.
He also assists on Special Immigrant Juvenile (SIJ) status visas, which help children who have been abused, neglected, or abandoned seek lawful permanent residence in the United States.
One of Argueta's recent cases involved a 15-year-old client who left his home country in Central America after being abandoned by his father and persecuted by a vicious gang. The client saved what he could to be able to travel to the United States.
"I think of a 15-year-old in the U.S. who might be saving up to buy a video game or a new phone—not saving up to travel more than 2,000 miles to a country he does not know," Argueta says. "This case stood out to me because had my father not done 35 years ago what this child did, maybe I wouldn't be here today."
Parras, who has served as Argueta's mentor during the past year, says he is "an inspiration."
"I can tell you that not only he has the brains and the passion for representing immigrant survivors of crimes of violence and working on reuniting families, he also cares deeply," Parras says.
In his free time, Argueta is involved with the Hispanic Latino Law Student Association at Drake. Through the organization, he volunteers at the HOLA legal clinic that offers free legal advice to low-income residents of Des Moines. He also tutors residents and refugees in a prep course for the United States citizenship test through the Lutheran Services of Iowa.
Next semester, Argueta will be a student attorney in Drake's Criminal Defense Clinic, representing indigent clients in Polk County.
"Getting experience in criminal defense will certainly help me be a better immigration advocate going forward in my career," he explains.
After graduation, Argueta plans to stay and practice in Des Moines.
"I have really adopted this place as my home," he says.