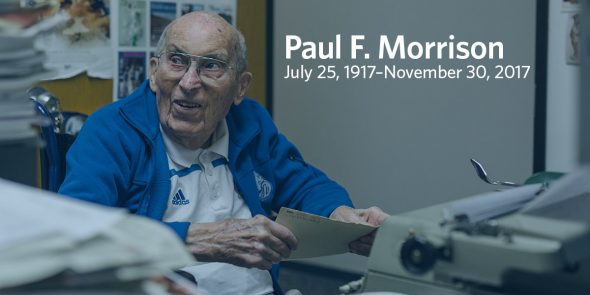 Public Memorial Held Dec. 6 in the Knapp Center
Drake hosted a celebration of life on Wednesday, Dec. 6, to remember Paul Morrison. The ceremony began at 11 a.m. in The Knapp Center and was streamed online via Drake University's Facebook page.
The ceremony was followed by a public reception, a funeral procession, and public burial with military honors.
Paul F. Morrison, one of the most iconic and cherished individuals in the history of Drake University and Drake Athletics, died on November 30, 2017. He was 100 years old.
Affectionately known as "Mr. Drake," Morrison's legacy at Drake stretches more than 70 years. He had been connected to the University for nearly the entirety of its existence, as the son of two Drake alumni and as a student, staff member, volunteer, and friend.
"Paul represented everything that is great about Drake University," said Drake University President Marty Martin. "He was a wonderful husband, father, and grandfather. He was a loyal and trusted friend to so many in our community. He was an outstanding servant-leader in Drake Athletics for decades, including long after he had officially retired. Paul was a man of good will and good cheer in everything he did. And, he always showed up! We will miss Paul dearly for a very long time."
Morrison enrolled at Drake in 1935 and graduated in 1939 with a degree in journalism. After graduation, he worked at a newspaper in his hometown of Cedar Rapids, Iowa, before being drafted into the U.S. Army where he was stationed in the Pacific theater and produced his division's newsletter.
Upon his return from the war, he was hired as the first full-time director of the Drake News Bureau in December 1945. He later served as athletics business manager before beginning a lengthy run as sports information director.
Although he officially retired in 1986, he returned to campus the next day and continued to serve as Drake's athletics historian on a volunteer basis until his death.
"He never ever thought about retirement and staying home," said his daughter, Holly Dierks, who graduated from Drake in 1976.
Morrison's dedication to Drake, to sports, and to humanity brought him into contact with nearly every student-athlete, coach, and administrator who attended Drake during his career.
"Paul led with love—love of his Bulldog family and Drake University," said Megan Franklin, Drake University's interim director of athletics. "His gift of connecting with letter-winners always allowed Bulldogs to feel attached to this University while assuring their legacy was appreciated and celebrated. Paul's life is a story of commitment that will be treasured and celebrated for generations to come. We will always be in this together, as Paul liked to say."
Morrison attended more than 700 Drake Bulldogs football games, thousands of Drake basketball games, and 80 runnings of the Drake Relays.
"Paul Morrison's contribution to the Drake Relays is immeasurable," said Blake Boldon, Franklin P. Johnson Director of the Drake Relays. "As Paul said many times, 'For more than a century, the Drake Relays has been Des Moines' window to the world.' Paul was the narrator of our story for many decades and a committed historian until his very last day."
Morrison's service and legacy is commemorated at Drake in numerous ways. A stretch of Forest Ave., running in front of the Knapp Center and Drake Stadium, is named in Morrison's honor. A vintage clothing line is named after him, as well. His likeness appeared on one of the tickets during the 108th Drake Relays this year. After his 100th birthday on July 25, he was commemorated with his own bobblehead doll.
Most recently, the University raised more than $65,000 from 167 alumni, fans, and friends in support of the Paul Morrison Excellence Fund, which supports the Drake Athletics department in providing a world-class university experience for student-athletes.
The fund also supports the creation of the Paul F. Morrison Collection in the Drake University Archives, which ensures the longevity of thousands of historical documents that Morrison preserved throughout his career.
"You can't think of Drake without thinking of Paul," said Al McCoy, a 1954 Drake graduate who has been the radio voice of the Phoenix Suns since 1972. "He simply never stopped being a vital part of any athlete that ever was at Drake."
Morrison was inducted into The Des Moines Register Iowa Sports Hall of Fame in 2014.
He was so highly regarded in the sports community that the Missouri Valley Conference inducted him in the league's Hall of Fame charter class in 1997, a group that included basketball legends Oscar Robertson, Larry Bird, Wes Unseld and Dave Stallworth, while naming a Hall of Fame category after him. The "Paul Morrison Award" recognizes those individuals who have made significant contributions to their respective league-member institutions.
Morrison considered the Drake community to be his family—and many of them actually were. A total of 15 members of the Morrison family have graduated from Drake. He was married to his wife, Pauline, in 1949 and enjoyed 42 years of marriage before she passed away in 1991. He was also preceded in death by a daughter, Mary.
Read more about Paul Morrison:
Fan of the Century (NCAA Champion)
Paul Morrison: The Drake Super Fan Attending His 700th Football Game (WHO-TV, Des Moines, Oct. 2015)
Mr. Drake (Cityview, Des Moines, April 2016)