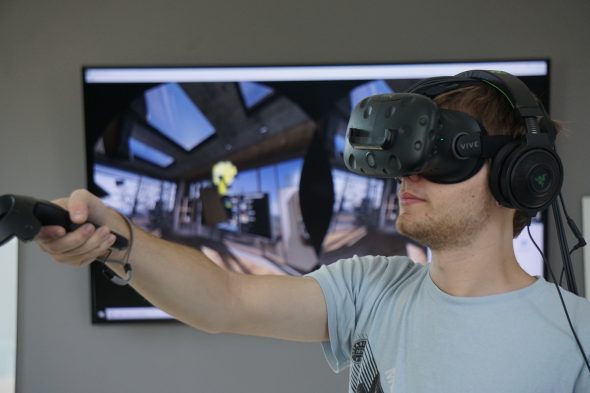 Friday afternoon video game sessions take on a whole new meaning as student researchers work wonders before the weekend
After a long week of papers, tests, and projects, some Drake University students curl up on their futons to watch Netflix, grab a nap, or play video games. But across campus in Collier-Scripps Hall, other students are wide awake and hard at work—designing a video game that is set on Drake's campus. Other students are exploring 3-D virtual worlds, building robots, creating websites, and studying hurricanes.
A number of Friday afternoon research groups have sprung up in Collier-Scripps since the building opened this fall. Collier-Scripps is providing the technology and space accommodations, but students are providing the brainpower.
Professor Tim Urness, who introduced the initial idea for collaborative groups, said the invitation is open to everyone and the opportunities are as broad as students' imaginations.
"If you want to do something above and beyond," he said, "we'll find a group for you."
'Something nobody's ever attempted'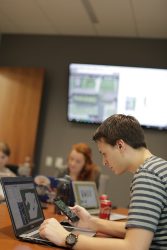 None of the work is for course credit—everyone who participates does so out of curiosity, desire to learn, and yes, the chance to have fun. One group is using applied mathematics to better understand the nature and size of hurricanes. At the end of the semester, they hope to have compiled enough research to write up an undergraduate paper. Another group is using high-tech data processing tools to analyze Twitter content. A third group focuses on robotics.
The video game designers are modeling a game after Super Nintendo's "The Legend of Zelda: A Link to the Past," with Drake's campus as the playing field. Players can choose to play with Griff or Spike as their avatar. The group almost has all of campus plotted on the game, and after that is completed the group will work with a team of writers to plan the game's storyline and objectives. They even hope to work with a student in fine arts to record the background music.
"The story idea that has been kicked around is that there is a [First-Year Seminar] studying Drake's haunted past, and then they open Pandora's box and Drake's campus becomes overrun with ghosts," said Assistant Professor of Mathematics Chris Porter, who is working on the game with the students. "So you have to go to different parts of campus like FAC [the Harmon Fine Arts Center], the library, and Meredith. Those are the dungeons—and Old Main is the final dungeon. There's still a lot of work to be done on that, though."
Web development is still in the beginning stages of their project. They are individually studying the basis for web development, then will come together as a group with a common knowledge so as to better create their end product.
The final, and by far the largest, group is researching virtual reality. Drake junior Carter Genrick and his his colleagues are researching virtual reality modeling, which aims to create a virtually inhabitable 3D environment.
"Virtual reality is something that nobody's ever attempted at Drake," Genrick said. "It's something cool that we can be the first to accomplish. It's a very powerful resource that will be beneficial either for our careers or for the future."
The group hopes to be at the forefront of the virtual reality movement by creating a virtual tour of Drake's campus for prospective students who are otherwise unable to visit campus. The first building they would try to capture virtually would be their new home, Collier-Scripps.
Collaboration in Collier-Scripps
Each of the research projects is extracurricular, meaning students participate purely out of their own interest rather than for course credit. Groups raved about the new set-up in Collier-Scripps Hall and how it facilitates collaborative learning. The hurricane research group had formulas sprawled over floor to ceiling white boards, the Zelda group can put their work on a monitor for all to see and critique, and the virtual reality team has big open spaces to move around and work with their technology.
"Each room can function either as a research room or a classroom. We have a bunch of whiteboards to scrawl our ramblings on," Genrick said. "We have TVs so everyone can see what's going on [in the VR headset]. We can adjust the lighting; we can adjust the blinds—we're plugged into the web server. There are even things that our group doesn't use, but others use, like a 3D printer."
The groups are exploring, researching and creating content with the drive and passion that are characteristic of Drake students.
"This opportunity allows me the ability to learn things I'm interested in that relates to my major, but outside the normal curriculum I would take," said Teo Speece, a member of the hurricane research group. "And in a setting that is more applicable to the real world."