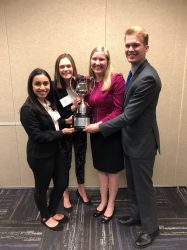 Marketing students from Drake University and Creighton University met in Omaha recently for the fifth annual Murphy Cup, a marketing student case competition. Students worked in teams to develop strategies for marketing a new wholly-owned subsidiary of Union Pacific, a railroad franchise that operates in 23 U.S. states.
Administrators from Union Pacific and its new subsidiary, Loup, judged the teams based on the strength of their plans to integrate the brands of four subsidiary companies that recently were consolidated to form Loup, and to present Loup to customers. Administrators also served as coaches and mentors to the students during the competitive process.
"Working with a real company like UP has reinforced the importance of core skills needed to be an effective team member within a company," said Drake senior Rebecca Crepeau, a marketing major from Apple Valley, Minn. "Some of the skills we were able to practice included teamwork, innovation, research, summarizing financial costs, analysis of challenges and potential issues, and effectively communicating with those involved in the situation. I will definitely use these core skills in my future jobs."
The Murphy Cup is the vision of Drake University alumnus Chris Murphy, a member of Creighton's Board of Trustees and owner of the Ameriwest Corp holding company and First Westroads bank in Omaha, to hold an annual marketing strategy competition featuring top marketing major seniors from Creighton and Drake. Murphy made a substantial donation to make this event possible, covering all event expenses and accommodations. 
Each year, twelve students are chosen by the marketing faculty to represent each school. This year's students from Drake included Haley Morris, Hannah Hoefft, Emily Furlow, Maddy Gildersleeve, Taylor Monkman, Erin Hirter, Rebecca Crepeau, Ben Danile, Dustin Casey, Max Raecker, Louis LaFeve, and Cort McElmury. The competition was held from November 16-18.
"We've designed this to be a truly unique event and an experience that will stand out as a highlight of these students' college career," said Andrew Norman, associate professor of marketing at Drake and organizer of the event. 
One of the key features of the Murphy Cup as a case competition is the organization of competitive teams. Rather than having teams from Drake compete against teams from Creighton, six four-person teams composed of two students each from Creighton and Drake compete against each other. The purpose of this is to foster collaboration between the neighboring schools while at the same time pressing students to compete at the highest levels of their academic fields. 
"Throughout the course of the weekend, everyone on our team got to know each other really well, learn more about each other's universities, and you could see how each school has prepared their students for success," said Drake senior Dustin Casey, a marketing and information systems double-major from Prior Lake, Minn. "It was a really great experience learning from the students at Creighton."
Another key element of the event is the participation of a corporate client.
"It was Chris Murphy's strong desire for the case competition to be based on a 'live' company and real-time information," Norman said. "This year, that led us to pursue Union Pacific as the subject."
Students were given background reading material on Union Pacific prior to the event. During an opening banquet, students were assigned to their teams. The next day, each team was then given work space where members prepared their plans. Each team had 20 minutes to present their proposal to the judging panel.
On this year's winning team were Crepeau, who also was honored as the year's Most Knowledgeable Contributor, and Max Raecker. Casey was named Most Creative Contributor. All students received keepsake items commemorating the event.
"I learned a lot about problem solving and working on a short timeline," said Raecker, a senior marketing and finance major from Urbandale.
Crepeau said the experience complemented similar projects she's worked on during her studies at Drake and as a member of the University's chapter of the American Marketing Association. 
"I learn best with 'hands-on' learning experiences, and Drake has provided me with many of these through my classes and internships," Crepeau said.  
Casey said he participated in Principal Financial Group's Voice of the Young Consumer University Partnership Challenge earlier this year. Drake's team won that competition against students from University of Iowa, Iowa State University, Graceland University, and Grand View University for the second year in the row.  
"The skills that students need to learn to prepare themselves for the real world can't always be learned within the classroom," Casey said. "But Drake and its College of Business and Public Administration do a great job of giving students opportunities to gain these skills through competitions and internships."
For more information about the Murphy Cup, contact:
Andrew Norman, associate professor of marketing
College of Business and Public Administration
Drake University
2507 University Ave.
Des Moines, IA 50311
515-271-2758
atnorman@drake.edu