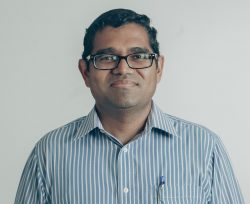 Shankar Munusamy, Associate Professor of Pharmacology
Dr. Munusamy holds a BS in Pharmacy from M.G.R. Medical University in Chennai, Tamilnadu, India, a MS in Pharmacology and Toxicology from the National Institute of Pharmaceutical Education and Research in Mohali, Punjab, India, and a PhD in Pharmacology from the University of Arkansas for Medical Sciences. He completed a post-doctoral fellowship in the Department of Physiology & Biophysics at the University of Mississippi Medical Center. Since 2011, Shankar has been an Assistant Professor of Pharmacology in the College of Pharmacy at Qatar University and has experience teaching a wide range of topics in pharmacology. He is an accomplished researcher in the molecular biology and pharmacology of chronic kidney disease.
What is your role at Drake and what drew you here?
As an associate professor of Pharmacology, my role at Drake is to help students to learn how medications work in our body and how they cause adverse effects while correcting the disease state. From a scholarly perspective, my role is to train students in basic research by providing them with an opportunity to work on my research projects, which focus on investigating the mechanisms of diabetic kidney disease. It is my passion towards undergraduate teaching, which drew me to Drake.
What excites you most about being here?
The opportunity to work with incredibly talented faculty members, courteous staff and highly motivated students. The faculty and staff are always willing to help, which gives me a strong sense of belonging at Drake.
You started at Drake this school year, what sticks out so far?
Collegiality and professionalism.
How would you describe your teaching style?
I adopt the "Socratic method" (asking and answering the questions) to stimulate interest and critical thinking among students. This method also helps me to transform my didactic lectures into interactive sessions and actively engage students. I employ diverse teaching methods and strategies such as mnemonics (techniques that aids information retention), analogies (relating concepts to a real-life situation) and animations in my lectures to help students logically connect the new information/concept to the basic concepts they already know.
If you had one piece of advice for current or prospective students, what would it be?
Never stop learning. Let your passion fuel your success.
Have you taken a picture with a Bulldog yet?
Yes, I took a picture with the bulldog outside Cline Hall, a few days after I joined Drake. It made me feel that I am now a part of the Drake community.
Favorite spot on campus?
The 301 classroom in the Science Connector Building that overlooks the Drake stadium.
What Drake tradition are you looking forward to experiencing?
Drake Relays and street painting.