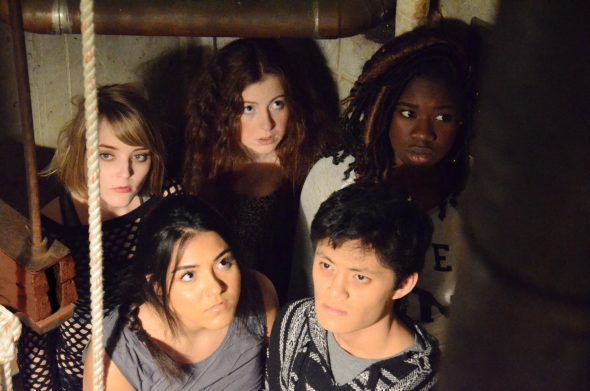 NOTE: This production contains material intended for mature audiences.
Drake University Theatre's first musical of the season explores the dark underworld of runaway children in Runaways with book, lyrics, and music by Elizabeth Swados.
Runaways is based on a series of interviews with homeless children in the 1970s and spotlights what led these children to become runaways as well as what they have to do to survive on their own.
Drake's production, directed by Associate Professor of Theatre Arts John Graham, runs Thursday, Nov. 16 through Sunday, Nov. 19 in the Performing Arts Hall of the Harmon Fine Arts Center. Performances will start at 7:30 p.m. Thursday through Saturday, and 2 p.m. on Sunday.
Admission is $10 for adults and $8 for students and senior citizens. Tickets are available online, in person, or via telephone at the Fine Arts Box Office, 2525 Carpenter Ave., 515-271-3841.
Every character in this show has run away from home for one reason or another, and junior BFA musical theatre major Maddie Sell had to create a connection with a character so unlike herself.
"It's a very unfamiliar place for me," Sell said. "I've never been homeless, I've never had to struggle for money or food or shelter, so getting into the mindset of homeless youth was difficult because I've never experienced it. I didn't and don't want to make it cliché because these are real stories. I want to make them as powerful and real as they can be, because they're from real people who deserve to have their stories told."
These real-life stories show the harsh realities these children face on the streets. Maddie McKeown, senior BFA musical theatre major, said the show depicts themes that aren't often discussed.
"I think so much of this show is dealing with the problems that children and young adults face every day in our country and they're problems that are not talked about," McKeown said. "There are so many problems, like human trafficking, homelessness, drug addiction, and abuse and child neglect that aren't talked about. I think they are issues that aren't spoken about and the media in our society doesn't touch on the children that aren't being heard and are in these terrible situations. I love that our show is giving a voice to these children."
This production is largely an ensemble based show, while occasionally a child breaks from the crowd to tell their story. Sophomore BFA musical theatre major, Jeremy Berdin, shared that much of the rehearsal process was about building that ensemble and sense of community among the cast.
"We spent a lot of time over the course of that early rehearsal process breaking down barriers, getting used to being in each other's spaces," Berdin said. "I feel like that has helped us as an ensemble, and it has been really cool to see how open everyone has been working together. It really does allow for us to make some really great moments together, because of the relationships we've created, and I think that dynamic within the cast is really strong."
Berdin hopes the show gives the audience a new perspective on the world and how we relate to those around us who may go unnoticed.
"I think that this play is very unique on its own," Berdin said. "It takes a look at these people, these kids, who aren't always heard, and it tells a story that you wouldn't expect out of their situations. It really makes you think and makes you consider the way you look at the world."