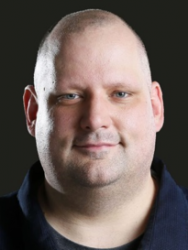 Current and prospective CPHS students will examine the patient's perspective at Pharmacy & Health Sciences Day, Thursday, Nov. 9.
Take a Walk in My Shoes: The Patient Experience will feature keynote speaker Daniel P. Finney, Drake University alumnus, who has documented his battles with obesity and mental health as the Des Moines Register's Metro Voice.
Daniel P. Finney
Pharmacy and Health Science Day Program
The PHS morning session will be held in Sheslow Auditorium, 2507 University Avenue. Registration opens at 7:50 am, with the program beginning at 8:30. The program includes:
The State of the College Address, Dean Renae Chesnut
Awards
Game Break
Keynote Speaker Daniel J. Finney
PHS Day shifts to the Olmsted Center in the afternoon, with a variety of student-focused presentations. Registration for the afternoon begins at 11:30 am, followed by the DRxUGS/HOSA/DUSOTA lunch at 11:40.
The Exhibition Hall will be held in Parent's Hall North from 12:00 – 2:00 pm. There will be Mini Discussions from 12:30 – 2:30, with an auction and raffle at 2:30 pm.
Afternoon session this year will include presentations on:
Serving Responsibly on Your Medical Mission/Service Trip
NAPLEX Review
Resume/CV Development Workshops
Universal Design
Student Development Theory 101
Novel Therapeutic Approaches to Treat Diabetic Kidney Disease
Burnout and Stress for the Healthcare Professional
Healthcare Ethics
Health Care Experiences in the Gender and Sexual Minority Population: The Need for Cultural Humility and Population Specific Training
Health Disparities in Gender and Sexual Minority Populations
The Pros and Cons of Health Reform
Pharmacy & Health Sciences Day, an annual event that began in 1988 on Drake's campus, is planned and implemented by students for students. The annual event features a variety of topics that address current and future health care issues, along with recognizing award recipients.
Questions can be directed to Lauren.Blum@drake.edu.