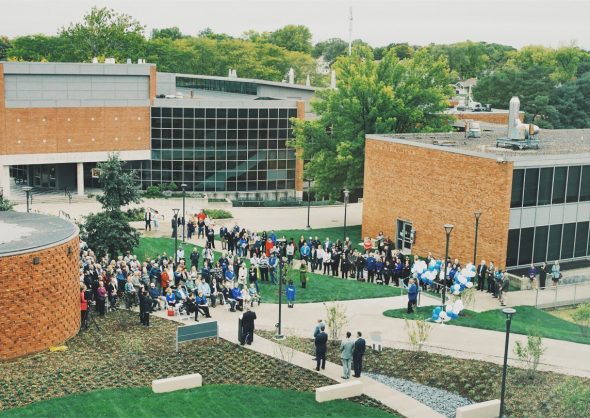 Drake University held a ribbon-cutting ceremony this weekend to celebrate the University's first new academic buildings since 1993.
Collier-Scripps Hall and the Science Connector Building opened for classes this fall, enhancing Drake's educational opportunities in the sciences, education, technology, and mathematics. The buildings also support new in-demand degree programs—including data analytics, kinesiology, athletic training, and occupational therapy—that address critical workforce shortages in the Des Moines metro area.
"This is truly a special moment for Drake University," David Golder, chair of the Drake University Board of Trustees, told an audience of more than 150 members of the Drake community. "Collier-Scripps Hall and the Science Connector Building have added new vibrancy to campus and provide an environment that supports new programs, research, and collaborative learning."
More than 500 individuals and organizations contributed more than $28 million in philanthropic support for the two new buildings, which are the centerpieces of Drake's $52 million STEM@DRAKE initiative. Leadership-level gifts came from Harry Stine and Bill Knapp to STEM@DRAKE; Jim Collier and Ric and Debbie Scripps to Collier-Scripps Hall; and Hy-Vee, Inc., and Stan and Dotty Thurston to The Robert D. and Billie Ray Center.
"These buildings represent the impressive change that occurs when individuals come together to realize a vision," Golder said. "Thank you to everyone who played a role in bringing this project to completion."
The Science Connector Building links four other buildings—Olin Hall, Morgan E. Cline Hall, Fitch Hall, and Harvey-Ingham Hall—to create an interdisciplinary, interconnected hub for the sciences, including pharmaceutical sciences, on Drake's campus.
Collier-Scripps Hall is home to the School of Education, Department of Mathematics and Computer Science, and The Robert D. and Billie Ray Center.
Both new buildings offer flexible classrooms that can be configured to accommodate a variety of teaching styles and student needs, and are equipped with technology that fosters collaborative project-based learning and research.
Saturday's outdoor ceremony was interrupted by light rain, prompting Drake University President Marty Martin to skip his prepared remarks and proceed directly to the cutting of the ribbon. But in a written statement, President Martin said: "The Science Connector Building and Collier-Scripps Hall reflect many of the best elements of a Drake education. They provide our students with opportunities to collaborate with peers and faculty members, often across disciplines, to find novel solutions to pressing challenges. And they strengthen the promise that students will graduate with a resilient education that provides them with skills for professional success."
Other highlights of the ceremony included:
Janet McMahill, dean of the School of Education, compared the years-long process of planning for Collier-Scripps Hall to participating in the Drake Relays—saying every minute was worth it.
"Collier-Scripps Hall is the right place to showcase best practices for those who are preparing to be teachers, but also school counselors, mental health and rehabilitation specialists, business or other organization leaders, school administrators, and other professionals pursuing their doctoral degrees," McMahill said.
Ric Scripps, ED'70—standing beside his wife, Debbie Engstrom Scripps, ED'72—summarized the meaning and value of the STEM@DRAKE project: "A quality education can stimulate creativity and innovation and lead to prosperity," he said. "This building has our name on it, but it belongs to the students. It is they who will be the beneficiaries… Debbie and I truly believe Drake's best days lie ahead."
Debbie Engstrom Scripps, ED'72, noted: "The idea of blending science, technology, education, and math, as a campus-wide focus, sends a message to our prospective students that Drake believes in their future and is willing to put its resources toward that goal."
Joseph Lenz, dean of the College of Arts and Sciences, said the Science Connector Building not only links Drake's other science facilities, it "connects faculty and students in technologically enhanced labs; and through collaborative, interdisciplinary research and community-engaged learning, it connects Drake to Des Moines and the surrounding area."
Jim Collier, GR'70, wasn't able to attend the ceremony in-person, but he participated from home via live video feed. His face appeared on an iPad, which serves as the "head" of a robot owned by the School of Education; thanks to the robot, Collier could see and hear the event, as if he was in the audience. (In spring 2017, a graduate student who moved to Los Angeles while pursuing her Specialist in Education degree from Drake; she was able to complete her degree requirements by using the same robot to attend classes from across the country.)
Construction of the STEM@Drake Complex has completed. Hear what students and faculty have to say they enjoy most about the new buildings. pic.twitter.com/zFbO0bIUGU

— Drake University (@DrakeUniversity) October 5, 2017