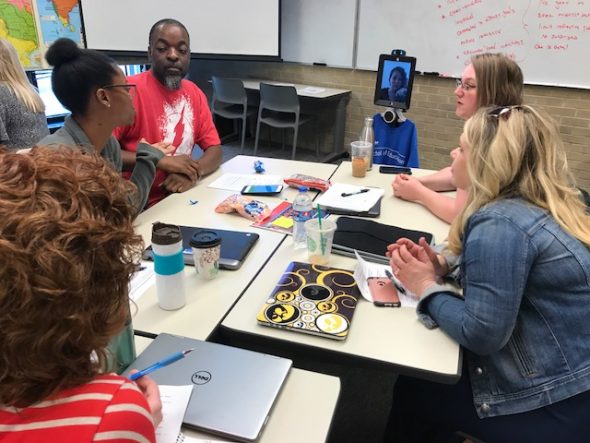 How robotics is helping a graduate student earn her regalia
Earning a graduate degree while working full-time and raising a child can be a challenge. It's even more complicated when you're taking classes on-campus in Des Moines and living in Los Angeles. But through a creative combination of sleepless nights, long plane flights, and a robot named Trebek, one remarkable pupil in the School of Education has been able to make it work.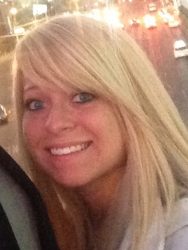 Sarah Perkins, ED'10, GR'14, was more than halfway through her third Drake degree—a Specialist in Education (Ed.S.)—when she and her husband moved to L.A. last fall. She landed a full-time job as a teacher at a charter school in Hollywood. A few months later, in December, she gave birth to a daughter.
She never gave up on finishing her coursework.
"Drake is an amazing university—I'm kind of obsessed with Drake, at this point—and my education here is not something I was willing to sacrifice, even living thousands of miles away," Perkins said. "Thankfully my teachers were able to be extremely accommodating and help out."
Coursework in the Ed.S. program is offered through a combination of in-class and online activities—with a strong emphasis on the classroom experience. For Perkins, the online portion was not a problem, but the trouble was getting to class. Her initial strategy for participating in lectures and discussions was… quite involved, to say the least.
"I would leave work up north in Hollywood, where I work full-time as a teacher, and drive to LAX [Los Angeles International Airport] on a Friday night, fly to Des Moines that night—usually on an overnight flight—and attend classes starting in the morning. Luckily, I could stay at my parents' house in the Des Moines area on Saturday night, and fly back to Los Angeles on Sunday afternoon."
That strategy had drawbacks: traffic, expenses, general lack of sleep. So she began attending courses via live video software, like Skype or Facetime.
"All four faculty members in the Educational Leadership program put our heads together, along with Sarah, to brainstorm a number of solutions," said Perkins' faculty advisor, Assistant Professor of Educational Administration Randy Peters. "She's an excellent student in our program, and an integral part of a tight-knit cohort, so we knew we had to do everything we could to help."
But even though Perkins had a classmate dedicated to helping her "look" around the classroom via video chat—turning the laptop in the appropriate direction—the experience just wasn't the same.
And that's where the robot comes in.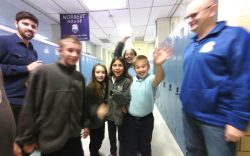 This spring, Perkins has been attending courses on a Telepresence Robot for Telecommuters, a motorized, self-balancing, battery-powered robot. She is able to cruise the 10-pound device around the classroom; its head is an iPad tablet that allows her to see, hear, and speak with classmates. She can even adjust the height, standing 4' tall on the low end and 5' on the high end.
Now, instead of flying from L.A. to Des Moines, she clicks a web link that Assistant Professor of Education Trent Grundmeyer sends on the morning of class, allowing her to assume her cybernetic physique.
"It feels a little bit silly driving it around, it takes a little coordination," she said. "But it makes my life so much easier. I can approach a table to participate in a group conversation, I can angle myself to hear a lecture or full group discussion, and I can have personal conversations with all of my peers—which is important, because those perspectives are very valuable to me."
Grundmeyer used some of his own professional development budget to purchase the robot, and the School of Education chipped in as well. The device has clear potential for expanded use, at Drake and in other professional and educational environments. Aside from Perkins, another student used the robot to attend courses while out-of-state for a work obligation. Public and private K-12 schools in the Des Moines metro area have arranged for demonstrations.
"I joked around with my own students and said, 'I know this [robot] worked pretty well and you enjoyed this, but I still expect you to go to class,'" Grundmeyer said. "I think the technology provides great opportunities to have guest speakers engage the class, or to accommodate students like Sarah who have special circumstances.  Really, the sky's the limit—but there are still classroom activities that the robot can't replicate. I don't think we'll ever have a class full of robots."
Perkins has one more class to complete this summer, before she earns her degree. But she has no doubt about it: With a little help from her professors—and Trebek—she'll make it through.
WATCH: Perkins interacts with her cohort