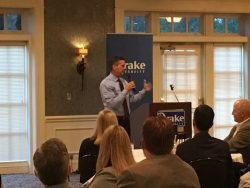 In September, more than 60 alumni and friends gathered at the Edina Country Club for Let's DU Breakfast. Guests were invited to arrive early for networking with President Martin, Interim Director of Athletics, Megan Franklin, and Head Basketball Coaches Jennie Baranczyk and Niko Medved. Area alumni enjoyed breakfast and listened to Twin Cities influencer Mark Coyle, University of Minnesota's Director of Athletics.
Coyle graduated from Drake with his bachelor's degree in English in 1991 and master's degree in teaching in 1992. He then went to Florida State University and graduated with his master's degree in sports administration in 1993.
Coyle shared how his five years at Drake affected his life and helped shape the career path he decided on. "When I graduated from Drake, I had every intention of being a high school English teacher," Coyle shared, "but then wondered how I could make more money, which led me to athletics." Athletics was not a foreign idea to Coyle, as he played on the football team during his time at Drake.
Coyle was transparent with the crowd that his journey prior to becoming the Director of Athletics at Minnesota, and in his first few months at the University have not been easy. However, Coyle seeks guidance from in his mentors, many of whom are Drake alumni and former classmates.
Throughout the year, the Drake University Twin Cities Regional Alumni Board (RAB) plans various programs to keep alumni engaged with the University. "This event is mirrored after a professional speaker series event that takes place in Des Moines in the fall and spring," said Amelia Klatt, assistant director of alumni relations, "the event was so well received, we would like to continue this event in the Twin Cities and other locations around the country."
The Drake Bulldogs Men's Basketball team will be heading to Minneapolis to take on the University of Minnesota Golden Gophers on December 11 at Williams Arena. Learn more about attending the pregame gathering.