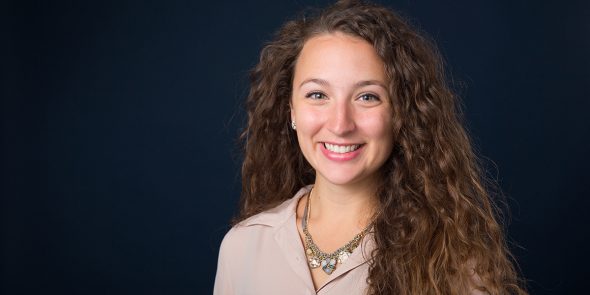 When Kelly Kretschmer, AS'12, GR'16; first came to Drake, she had two passions––music and a desire to make a difference. It was through opportunities at Drake that she learned how to combine these two passions into a successful career.
Kretschmer is the fine and performing arts curriculum coordinator for Des Moines Public Schools. She works to develop teaching strategies and programs that create a positive and inclusive music program for Des Moines students.
"Not all students have access to an instrument at home or the opportunity to attend a performance at the Civic Center," said Kretschmer. "My goal is to develop a program that removes barriers and creates equity, so all students at Des Moines Public Schools can experience the benefits of a comprehensive music education."
Kretschmer works to align a rigorous curriculum with experiences. Through community partnerships, she brings renowned artists into the classroom, exposes students to symphonies, and arranges for field trips to the Des Moines Civic Center. "I want every student to have an opportunity to participate in and experience music the way I did," said Kretschmer.
Kretschmer's first interaction at Drake was during a campus tour with her family. As she and her parents walked through Harmon Fine Arts Center, they passed Aimee Beckmann-Collier's office. The distinguished professor of conducting invited Kretschmer and her family into her office and struck up an impromptu conversation. Beckmann-Collier's professionalism, passion, and personalized attention stood out to Kretschmer, influencing her decision to attend Drake.
Kretschmer graduated with a bachelor's in music education and a master's in ­educational leadership­. While at Drake, she was exposed to a wide variety of opportunities. She sang in China, Ireland, and Wales. Throughout these experiences, she developed a global perspective for how other cultures live and connect with music.
Kretschmer credits her experiences at Drake and support from influential professors, like Beckmann-Collier, for not only helping her hone her craft but also enhancing her leadership skills. "Drake instilled in me a desire to leverage music to create positive change," said Kretschmer. "I hope to foster student success through music in the same way others have done for me."