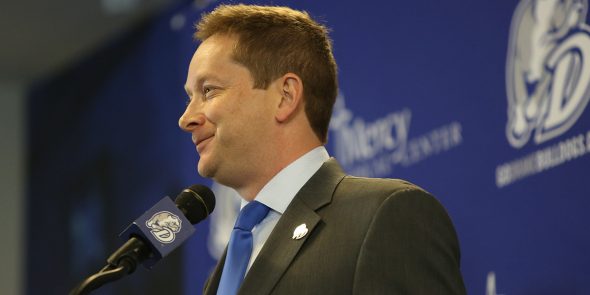 Drake University's men's basketball head coach Niko Medved is launching this basketball season getting to know a new team and community.
Medved's Background
The Minnesota native was previously at Furman University for four years where he was named the 2017 Southern Conference Coach of the Year. He has been recognized for his recruiting and ability to build a program. Medved took over a seven-win team, and in three years transformed it into a 19-win team that made the first of back-to-back postseason appearances and won Furman's first postseason game in 40 years.
Bulldog fans are eager for the season to see what the new coach can bring to the program. Medved has been spending the summer recruiting and getting to know his players as people first, before molding them as players.
The Upcoming Season
The team is getting to know Medved and is building a system that works for them. So far, Medved has been met with complete buy-in from the team. "They all get a fresh start to prove themselves and see what they can do," Medved said.
Practice tipped off on October 1 and the team is focusing on learning their style on both sides of the floor to determine what they have to work on to be successful. Meanwhile, Medved is keeping his sights on future seasons after spending a lot of time this summer recruiting to bring talented student-athletes to the program.
Every season that Medved goes into, he stresses that the goal is to always be the best the team can be. "That means collectively as a unit we look at how we can take this group and find a way to become our best," Medved said.
Why Medved Chose Drake
Medved was attracted to Drake University because of its reputation in the Midwest and nationally. "We attract quality student-athletes at a university like this," Medved said.  Des Moines has left a great first impression on Medved. "It's a terrific city–even better than I imagined," Medved said.
He even classified Des Moines as the best city in the Missouri Valley Conference (MVC). He sees the love and support the people within the conference have for basketball, so the foundation is set for a successful future for the Bulldogs. All of these things make Medved confident that the program can be built in a way that creates sustained success on the court and is a source of pride for the Drake community.
Learn more about Medved's background, see how the community welcomed him and watch videos of the beginning of his era at www.godrakebulldogs.com/nikomedved.