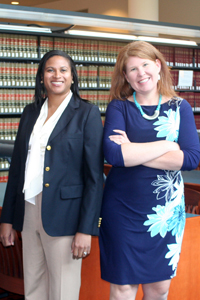 It's no secret that law school is challenging. Even the brightest students often need advice with issues ranging from exams to bar prep.
Enter Drake Law School's dynamic support team: Erin Lee Schneider and Brooke Axiotis. The two Class of 2012 graduates use their Drake Law experience to help future generations succeed.
"I loved my time at Drake Law as a student, and I want to help others feel the same way," says Schneider, assistant dean for student services. "I want to make sure that we are purposeful in what we ask of students, that all programs improve the student experience."
Schneider, who previously worked for the Legal Aid Society of Story County before coming to Drake a year ago, oversees academic success programming, registration, exams, accommodations, and support.
Whether it's taking 1L students out for coffee at Mars Café, offering personal counseling referrals, or planning new student orientation in the fall, Schneider's job is to focus on "all things student."
"My goal is to help our students find their place here and get the education and experiences they need for success after they graduate," she says.
Schneider works closely with Axiotis, director of academic success programs.
A former civil rights specialist with the Iowa Civil Rights Commission, Axiotis joined Drake this summer to teach a bar prep course in the fall and spring semesters, as well as organize the Bulldog Bar Prep program for graduates.
In addition, she manages the Integrated Study Group (ISG) Leader program and the new Law Opportunity Leadership Program, which partners with Des Moines-based employers to offer internships, mentorship, and leadership opportunities to five qualified students from underrepresented backgrounds.
"Law school is an experience, and I believe it is helpful for students to be able to reach out to someone who has been through it," Axiotis explains. "My priorities are to help all students achieve at high levels and to support them in any way I can."
The opportunity to work together comes full circle for Schneider and Axiotis, who were not only classmates at Drake Law School but also fellow Student Bar Association (SBA) leaders. They even served on the SBA Elections Committee together.
"I think it speaks to the quality of our experience at Drake Law School that two of us chose to return to work here," Schneider says.
"It is a joy to be working with Erin again," Axiotis adds. "I think we make an awesome team!"