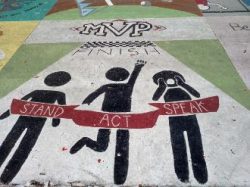 More than 250 central Iowa high school students will attend a day-long summit at Drake University designed to help them identify, prevent, and advocate against sexual assault and gender-based violence.
The Mentors in Violence Prevention (MVP) Leadership Summit on Tuesday, Oct. 3, will provide participants, such as the peer mentors from Southeast Polk and Waukee high schools, with skills to prevent abusive and harmful behavior. Sessions within the MVP Leadership Summit will cover bystander intervention and verbal, physical and emotional abuse—including bullying, dating violence, sexual assault and sexual harassment. Students will gain insight into how to intervene when they see potentially harmful situations and also be equipped with the ability to pass their knowledge on to classmates.
"All communities struggle to reduce gender violence and bullying," said Alan Heisterkamp, director of University of Northern Iowa's Center for Violence Prevention, which is co-hosting the MVP Summit with Drake. "We know statistically that 12 to 25 year olds are at high risk of being physically or sexually harmed. This summit is a way in which school districts, in partnership with Drake and UNI, can more effectively involve student leaders in the prevention process to increase healthy relationships and promote positive school and community cultures."
This is the first such summit to be held in central Iowa. Drake offers MVP training for its own students as part of a robust set of services aimed at reducing gender violence and sex-based discrimination, and the University is proud to take a leadership role in extending that training to local high school students, said Tess Cody, prevention coordinator for sexual and interpersonal misconduct.
"Many students start dating, or start thinking about dating and sex, in middle school or high school," Cody said. "If we wait until students arrive at college to begin providing bystander training, to some extent we're missing the boat. We need to educate students on violence prevention, especially in the context of dating and interpersonal relationships, before they get into those situations."
Drake students and staff members will facilitate breakout sessions on topics including:
Gender stereotypes
Healthy relationships
Sexting vs. sexual exploitation
Sports, leadership, and respect
Becoming a master facilitator
Joining the fight against human trafficking
For more information about the MVP Summit, contact Tess Cody at 515-271-4141 or tess.cody@drake.edu.