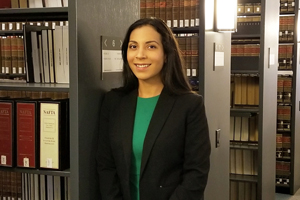 In an increasingly global society, third-year Drake Law student Hannah Weeg has gone above and beyond to gain experience in international law.
Weeg recently completed an internship for the International Criminal Tribunal for the former Yugoslavia (ICTY) in The Hague, a city on the western coast of the Netherlands.
The ICTY is a United Nations court of law prosecuting war crimes that took place in the Balkans in the 1990s. As the first international tribunal since the Nuremburg trials following World War II, the ICTY has charged more than 160 persons with genocide, war crimes, and crimes against humanity.
Weeg spent the summer as an intern for the ICTY Office of the Prosecutor Appeals & Immediate Office.
"A lot of the work I did revolved around the main goal of applying how the tribunal's jurisprudence will affect future international criminal law," she says.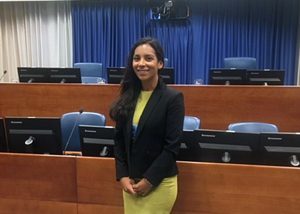 For example, Weeg worked on the preparation of an advanced training course on modes of liability in international criminal law, which involved putting together a brief note and a dossier of evidence from prior cases at the ICTY.
She also assisted in reviewing the trial readiness of a potential future case by examining witness testimonies and statements and writing witness summaries.
"Sometimes what I worked on was the first of its kind, and so there was no set guidance of what the final product should look like," Weeg explains. "Luckily, my supervisors were truly amazing in offering input along the way while still allowing me to contribute my ideas."
Weeg credits Drake Law School with preparing her for the internship. In addition to taking international law and human rights courses at the Law School, she participated in Drake's Summer in France program, which allows students to study topics such as international criminal law and the laws of war at the University of Nantes, France.
"These [courses] absolutely assisted in my understanding of what was going on while at work," Weeg says.
She also relied on her experience majoring in Spanish and International Studies at Iowa State University. As an undergraduate, Weeg spent much of her time studying abroad in Spain, including two semesters in Cáceres and two summers in Valencia.
"On the first day of my internship, I ended up translating a legal document from Spanish to English, which surprised me because I was applying not only my law school abilities, but also skills from my undergrad," Weeg says.
One of Weeg's most memorable experiences was watching the prosecution's opening statement at the retrial of Jovica Stanišić and Franco Simatović, who were charged with four counts of crimes against humanity and one count of violations of the laws or customs of war. The two men allegedly co-perpetrated a joint criminal enterprise to forcibly remove non-Serbs from Croatia and Bosnia and Herzegovina in the early 1990s.
Weeg also traveled to countries such as Poland, Germany, and Spain. On her birthday she visited Croatia, which she says had "special meaning" to her as one of the countries involved in her work.
"All of those traveling experiences were absolutely incredible, and I was so very glad that I had those opportunities that may not ever arise again," Weeg says.
After she graduates this December, Weeg plans to gain experience working in the United States for a few years before ultimately practicing law internationally.
"Ideally, I would like to continue to work in human rights law, but I'm open to whatever crosses my path," Weeg explains. "This internship helped me in achieving my goals because it provided me with great international experience."