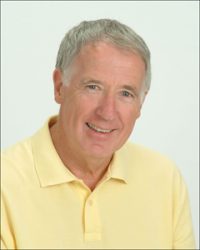 The Olympics. Super Bowls. The Statue of Liberty. National parks. Hollywood movie sets. These are among the many projects lit by Musco Lighting, an Oskaloosa, Iowa-based company co-founded by Joe Crookham, LW'68.
Crookham is a lifelong resident of Oskaloosa, a town of 11,500. He earned his BA and MBA in accounting from the University of Iowa before obtaining his law degree from Drake University.
In February 1968, during his first week of practicing law, Crookham met local engineer Myron Gordin. After hearing Gordin's plans to start a small hand tools company, Crookham offered to help with sales, marketing, and general business planning.
Crookham and Gordin grew the business in various ways, and in 1976, they bought the Muscatine Lighting Manufacturing Co. in Muscatine, Iowa—creating the company "Musco Lighting."
As Musco grew, it became more difficult for Crookham to balance his law practice and his business. His fork-in-the-road moment came when he had to cut a business trip in New Jersey short to prepare for a jury trial in Iowa.
"I realized that as my legal career and my business career each became more successful, they were going to collide more often," Crookham says.
So after 12 years of practicing law, Crookham made the "very difficult choice" to turn his full attention to Musco. However, he still relies on valuable elements of his Drake Law education.
"I use my legal training in a lot of ways," Crookham explains. "It's tremendously helpful in how to evaluate situations. Every element of business is impacted by the principles expressed in the law; I'm a lot more comfortable dealing with those issues because I've got a legal background."
Under Crookham's leadership, the company grew to more than 1,000 employees and developed new technology. In 1982, the company gained national recognition when its revolutionary portable lighting system lit the University of Notre Dame football stadium during its first-ever night game.
The following year, Musco provided lighting for the Super Bowl, as well as the movie set of "All the Right Moves" starring Tom Cruise. In 1984, the company was the official lighting supplier of the Summer Olympic Games in Los Angeles.
And that was just the beginning. Over the past four decades, Musco has lit tens of thousands of sports facilities such as the Rose Bowl, Dallas Cowboys Stadium, Wimbledon, Daytona International Speedway, and Los Angeles Dodgers Stadium.
It has provided lighting for eight U.S. presidential inaugurations, along with national sites such as Mount Rushmore and the Washington Monument. In 2008, Musco lit the White House after being approached personally by First Lady Laura Bush.
The company has also lit movies including "Field of Dreams," "Forrest Gump," and the iconic sinking ship scene in "Titanic." It received an Emmy Award and a Technical Oscar Award for lighting quality.
"It's unreal the kinds of things we've been able to do around the world," Crookham says.
As CEO of Musco, Crookham's business has sent him all over the United States and to six continents. He had cocktails with the president of the United States, met the Queen of England, and receives an annual Christmas card from King Abdullah II ibn al-Hussein of Jordan.
Through it all Crookham has remained committed to the importance of corporate responsibility. Musco donated lighting trucks to illuminate rescue and recovery efforts after the 1995 Oklahoma City bombing, and did the same for both the Pentagon and World Trade Center following the 9/11 terrorist attacks.
Musco also donated lighting for a neighborhood play area in Kigali, Rwanda, so local children can have extended opportunities for playtime.
"My personal philosophy is if you're fortunate enough to have more resources than your needs, it's not a privilege—it's a responsibility," Crookham explains.
Musco is a longtime member of the International Dark Sky Association, which works to stop light pollution and protect the night skies through responsible outdoor lighting. The company also pioneered the use of LED lights on large scale structures.
In addition, Crookham recently created the annual Joe P. Crookham Scholarship for two incoming diverse students at Drake Law School.
"Drake provided me with a lot of opportunities, so I have a responsibility to give back," Crookham says. "The scholarship reaches out to people with different backgrounds who are not well-represented in the legal field, and I'm pleased to be a part of that."
Reflecting over his career, Crookham says he is most proud of the fact that he never "lost track of the importance of team and community."
This is evident by the fact that despite its global success, Musco's main facilities—and Crookham—have remained in Oskaloosa, with a manufacturing location in Muscatine.
The company is also a family affair. His wife, Jeanie Bieri, has worked alongside him for 38 years, overseeing marketing for Musco. All three of their daughters have worked for Musco at one point—including Diane Crookham-Johnson, who is also a Drake Law graduate.
"I'm fortunate," Crookham says. "I'm proud to be part of a team with the attitude and willingness to step forward and make it happen."