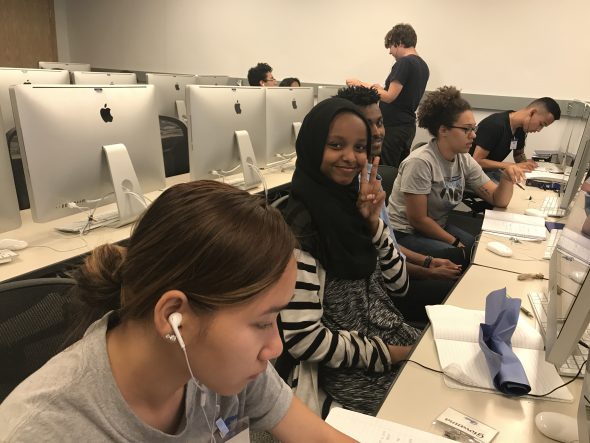 Tam Cao has quite a bit in common with her classmates at Des Moines' Hoover High School. The 17-year-old is active on the cheerleading squad and enjoys playing tennis. She likes to talk and laugh with her friends.
But because she and her family immigrated to the United States from Vietnam less than two years ago, she sometimes finds it hard to fit in.
"[Classmates] don't want to be friends with me because of my broken English," she said. "They don't understand who I am, my background, and what I've been through."
Soon, everyone will have a chance to hear Cao's story. She is one of 13 Des Moines high school students who participated in a Drake University program called the Community Research Summer Scholars Project, a three-week summer program that aimed to raise awareness and understanding of stories told by immigrant and refugee communities in our city.
Each participant produced audio podcasts that tell their own personal story, the story of a peer, and the story of an elder in the immigrant and refugee community. The recordings will be shared publicly during a launch party at 2 p.m. Sunday, Sept. 24, in the Cowles Library Reading Room; admission to the event is free.
"Stories about refugees and immigrants are so often told by others, and not by the communities themselves," said Darcie Vandegrift, professor of sociology. "The same is true of young people—a lot of things are said about them, and for them. One major goal of this project is to give them the skills and the confidence they need to continue the storytelling on their own."
Another goal of the project is to increase public understanding of the ever-expanding diversity in Iowa. There are more than 100 languages spoken in the households that make up the Des Moines Public School District, and the district serves more than 6,800 students for whom English is not their primary language.
"Des Moines is a transnational city, but it's not often thought about as a transnational city," Vandegrift said. "We are a community that is connected with the world, but that story isn't being told."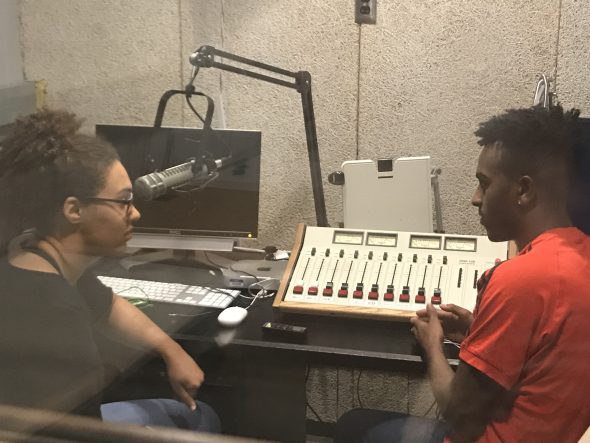 Anjana Biswa Drupka, a Lincoln High School junior from Nepal, said she hopes the stories will help dispel pervasive myths about refugees and immigrants.
"They say we're dumb, or we're all criminals," said Drupka. "But that's not true."
Participants were selected from a competitive application process among students at all Des Moines high schools. Breakfast, lunch, and snacks are served each day, all at no cost to the participants.
Lourdes Gutierrez Najera, assistant professor of anthropology; Kevin Lam, assistant professor of urban and diversity education; and Darcie Vandegrift, professor of sociology; co-organized the program, which was funded by a Global Pressing Issues Grant at Drake.
"The best way to break stereotypes is to be educated," Gutierrez Najera told WHO-TV Channel 13 news. " I believe stories can be transformative for both the interviewer and interviewee. Listening creates empathy and fosters understanding. This is why I say talk to a neighbor, talk to an immigrant."
Interfaith summer camp
Also this summer, a digital storytelling project at Drake aimed to prepare the next generation of youth interfaith leaders.
Approximately 15 high school and middle school students representing six different major world religions—Judaism, Christianity, Hinduism, Islam, Sikhism, and Buddhism—spent a week at an interfaith summer camp hosted by The Comparison Project at Drake University.
"Participants explored their own faith stories, learned more about others' beliefs and experiences, saw diverse faith traditions practiced in places of worship, and discussed the principles and practices of interfaith leadership," said Tim Knepper, professor of philosophy and director of The Comparison Project.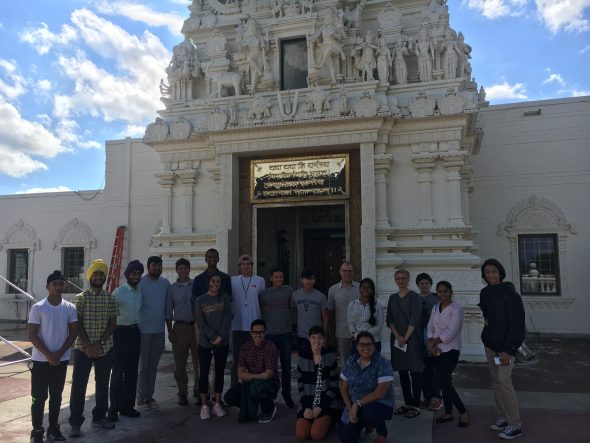 Participants dedicated each morning to creating video stories about personally meaningful faith experiences. Drake students helped the campers write, record, and produce their stories. On the final afternoon, Drake screened each participants' stories for the campers, their families and faith communities, and the public; local TV news station KCCI later interviewed Knepper and a Drake student, Tierney Grisolano, about the experience.
The campers spent the afternoon hours touring many of their places of worship. They also discussed the principles and practices contained in the book Interfaith Leadership by Eboo Patel, a national leader in youth interfaith efforts and founder of Chicago-based nonprofit Interfaith Youth Core. Patel wrote the introduction to A Spectrum of Faith and spoke at the book's launch event last fall, calling the book effort one of the strongest examples he'd ever seen of interfaith collaboration between a private university, local nonprofit and civic organizations, and local faith communities.
A youth organization called The Iowa Sikh Turbanators, which is co-hosted the camp, was founded by "JJ" Kapur, a Valley High School student who received the Citizen of Character Award from the Ray Center in July.