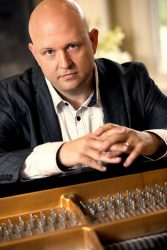 Steven Spooner, professor of piano at University of Kansas, will present the opening concert of the fifth season of Drake University's Keys to Excellence Piano Series. The free concert is scheduled for 7:30 p.m. Monday, September 25, in Sheslow Auditorium.
Spooner's concert program for the evening will be determined by way of a unique audience voting system. On the evening of the concert, the audience will be provided with an extensive list of piano masterworks from which the concert program will be selected "on the spot" by those in attendance.
Spooner will also present a free public masterclass at 2 p.m. Sunday, September 24, in Sheslow Auditorium.
At the very fore of American pianists, critics and audiences have unanimously hailed Spooner's distinctive and compelling performances. One critic described him as "a pianist in the tradition that many believe died with the likes of Horowitz, Arrau, Bolet, Cziffra, and Wild. His talent, to my ears, is easily the equal of most major pianists of today and far superior to a large number of those 'most exciting and dynamic pianists of their generation.'" (Fanfare Magazine).
Keys to Excellence Piano Series 2017-18
SEPTEMBER 25: Steven Spooner – University of Kansas
NOVEMBER 6: Arthur Greene – University of Michigan
NOVEMBER 27: Nicholas Roth – Drake University
FEBRUARY 5, 2018: Asaf Zohar – Tel Aviv University
MARCH 26, 2018: Marina Horak –  Academy of Music in Ljubljana
APRIL 23, 2018: Peter Miyamoto – University of Missouri (Columbia)
All performances begin at 7:30 p.m. in Sheslow Auditorium and are free and open to the public.
Passionately devoted to the recital as a platform for innovation, he has been engaged and often re-engaged at prestigious venues such as the Salle Cortot in Paris, the Shanghai Concert Hall, Budapest's Great Hall of the Liszt Academy, New York's Carnegie Hall, Rome's Santa Cecilia, and Singapore's Esplanade.
During the past seasons he has daringly reinvented the solo recital by allowing audiences to vote on-the-spot for one of five programs he has prepared; and, like golden age pianists, his programs often feature his own glittering arrangements and compositions.
In 2016, he released a monumental project of 16 CDs honoring his heroes of the Russian School called Dedications. This mammoth project was met with critical acclaim from all over the globe. His enthusiasm for new music has produced an ongoing collaboration with renowned Deutsche Grammophon composer, Mohammed Fairouz (commissioned by the ROKI Foundation) to premiere and record several of his works during the next few seasons. Spooner is currently the co-star, along with his wife Jung, of their internet-based show about all things piano, A Life of Music.
Spooner has served as guest artist-in-residence at Paris Conservatory Summer Sessions and has been appointed to the Artist Faculty of the Colburn Music Academy, Amalfi Coast Music Festival, Musicfest Perugia, the International Institute for Young Musicians, the Adam Gyorgy Castle Academy in Budapest, and even his own Steven Spooner Inspire Festival in Singapore.
Spooner is increasingly in demand for his masterclasses at major music institutions all over the world such as the Paris Conservatory, Milan Conservatory, Liszt Academy of Music, and the Shanghai and Beijing Conservatories and in America at Rice, Indiana, Colburn, Oberlin, and many others. Steven serves on the piano faculty at the University of Kansas and is the winner of the 2014 Scholarly Achievement Award given to faculty members who enhance the university's international reputation.
A dedicated and caring teacher of students from around the world, Steven's pupils have been named winners of multiple prizes at important international and national piano competitions and enjoy performing careers of their own. Steven Spooner is a Steinway Artist. Further info: www.stevenspooner.com.
The Keys to Excellence Piano Series was created to raise awareness of Drake's fundraising efforts for the purpose of 70 brand new Yamaha pianos for the music department. It brings internationally acclaimed artists to perform on the Yamaha CFX concert grand at Drake University.
The series is supported by Yamaha, West Music, Civic Music Association, and Drake University. For more information, contact Nicholas Roth at 515-321-5947 or nicholas.roth@drake.edu