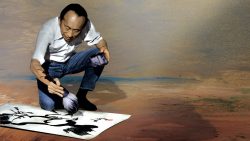 The East Asian Studies minor is pleased to announce the viewing of the documentary film, TYRUS.  TYRUS is Pamela Tom's tour-de-force documentary about the late Tyrus Wong, a Guangzhou-born, L.A. based visual artist and his personal and professional journey navigating racial bigotry in 20th century America. Tom's film includes illuminating interviews and commentary from Wong himself to document how his unique style helped the Disney animated film, Bambi, and early Hollywood establish their signature visual styles.
The showing will be on September 20 at 7 p.m., in Meredith 101. It will be followed by a panel discussion with Kevin D. Lam, Assistant Professor of Urban and Diversity Education, and Emily Newman, Assistant Professor of Art & Design; to be moderated by Mary M. McCarthy, Associate Professor of Politics and International Relations.
Individuals may also be interested in Cowles library's companion book about Tyrus Wong, entitled "Water to paper, paint to sky: the art of Tyrus Wong" by Michael Labrie.
Any questions about the viewing can be forwarded to Mary McCarthy in the Department of Political Science.