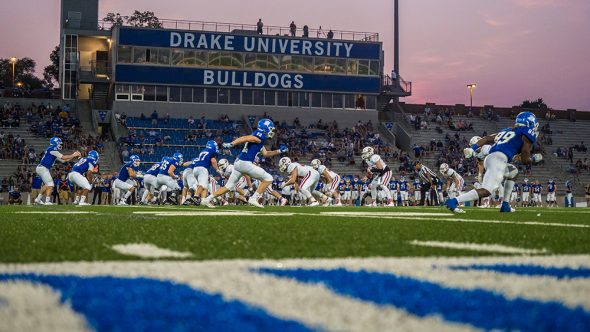 The Drake University football program announced that the Bulldogs will once again make history when they travel to the People's Republic of China in May 2018.
The Bulldogs made international headlines in 2011 when they traveled to Tanzania for the Global Kilimanjaro Bowl, the first intercollegiate game of American football on African soil. The team's trip to China, scheduled for May 22 to June 4, will leverage longstanding University partnerships within that country to provide student-athletes with a rewarding academic and athletic experience. The agenda is expected to include a public celebration of American football, including youth football clinics; volunteer service work; visits to the U.S. Embassy, Forbidden City, and Des Moines' "sister city" of Shijiazhuang; and a challenging hike along the Great Wall of China.
"Drake University is privileged to maintain meaningful partnerships in China, the world's most populous nation and one of the most influential economic and political players on the global stage," said Drake University President Marty Martin. "Our student-athletes will develop as athletes, individuals, and global citizens through their experiences in China, and will strengthen the University's partnerships in that country through a commitment to ethics and integrity both on and off the playing field."
While the major learning outcomes will be intentional—guided by Associate Professor of International Business Matthew Mitchell and Assistant Professor of International Business Jeff Kappen, who are traveling with the team—some of the rewards of global engagement inherently come as a pleasant surprise. For example, Drake's match-up against Mexico's Monterrey Institute of Technology and Higher Education during the Global Kilimanjaro Bowl paved the way for an enduring partnership between Drake and Monterrey Tec that resulted, among other things, in both the Drake men's and women's soccer teams' trip to Mexico in January 2015.
"Drake Athletics strives for nothing less than to be a national Division I model of excellence in the integration of athletic success and academic performance," said Megan Franklin, Drake University's interim director of athletics. "While preparing students who know how to win, we also ensure that intercollegiate athletics is a significant, cocurricular element of those students' learning experiences while at Drake. We are thrilled that our football team will again experience the global service and leadership development pportunities afforded to them by international travel."
Drake's myriad ties to China include:
Partnerships with four Chinese universities—Sichuan International Studies University in Chongqing, Southwest University of Political Science & Law in Chongqing, Minzu University of China in Beijing, and the University of International Business and Economics in Beijing—and with Shijiazhuang Foreign Language School in Shijiazhuang.
Drake's Teach in China program, through which more than 225 Drake alumni have had the opportunity to live and teach English in China.
Ongoing collaboration with Drake University Law School alumnus Terry Branstad throughout his career as former governor of Iowa and current U.S. ambassador to China.
Iowa's "sister state" relationship with Hebei Province has fostered many relationships between Drake and community organizations, schools, and government offices in Hebei.
Drake is collaborating with contacts in China to organize a public celebration of American football, including youth football clinics. Drake's student-athletes will be introduced to the complex interplay of culture, history, economics, and politics that is shaping China's role as a global actor in business and international organizations prior and during the seminar. The team will engage in various cultural activities, such as a visit to the Great Wall of China.
"Drake football is excited to travel to China next year and interact with the people of that great country through the sport of American football," said Drake Head Football Coach Rick Fox. "This will be a trip that will have lifelong impact on our young men and we hope it will be a benefit to the people of China as well."
Global Football, the world's largest exporter of American football since 1996, will partner with Drake again for the China trip, particularly on the day-long celebration of American football.  Global Football organized the travel, logistics, and game day opponent for Drake's trip to Tanzania in 2011. For the 2018 trip, they will collaborate with two organizations—the American Football League of China, an adult club league with teams across major Chinese cities; and the American Football Academy, a youth football organization focusing on teaching children ages 6 to 14 the basics of the sport—to organize the football component of the visit.
"Over the past decade, the sport has caught hold in a number of cities in China," said Global Football Founder and President Patrick Steenberge. "The Drake Bulldogs football team will have an amazing opportunity to further the development of the sport among youth and young adults in China, just as they did in Tanzania."
Friends and family members who are interested in traveling with the football team can find travel package details at anthonytravel.com/drake-china-tour.