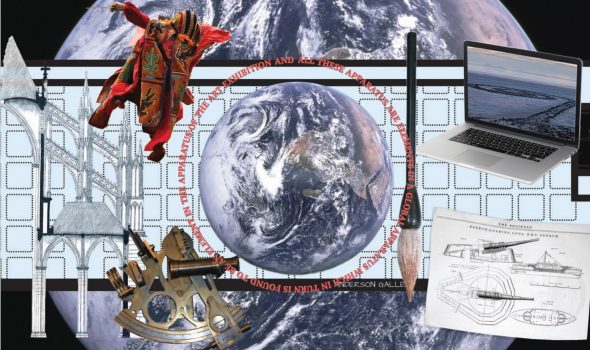 The Anderson Gallery is pleased to announce the opening of APPARATUS: The Technology of Seeing / Worldviews, curated by Lenore Metrick-Chen, professor of art history at Drake University, on view Friday, Sept. 22 through Saturday, Oct. 22.
APPARATUS: The Technology of Seeing / Worldviews
Open Sept. 22 to Oct. 22, 2017
Opening Reception: Friday, Sept. 22, 5 to 7 p.m.
The Anderson Gallery, 2505 Carpenter Ave.
An opening reception is scheduled from 5 to 7 p.m. Friday, Sept. 22 in the Anderson Gallery, located in Drake's Harmon Fine Arts Center, 2505 Carpenter Ave. Food and drinks will be served. Metrick-Chen will introduce the exhibition at 6 p.m. The reception and the exhibition are free and open to the public.
"The exhibition features seven different styles of art," Metrick-Chen said. "Each style is shown to be part of the cultural apparatus linking people to power. Every culture's apparatus is comprised of objects and people and the relationships between them, forming hierarchies of power. The organization of the apparatus determines a culture's particular worldview, its way of seeing the world. This exhibition provides the experience of walking through seven different ways of seeing and understanding the world."
APPARATUS will feature artwork and highlight technologies from the Gothic period, the Yoruba people in Nigeria, the Renaissance, the early Qing Dynasty in China, the Western European 19th century, Minimalism in the US (1960s), and our own time period. The technology of the computer in our own time extends into future possibilities through the inclusion of Tilt Brush, a new and little-explored way to paint in 3D using virtual reality.
Metrick-Chen received a joint Ph.D. at the University of Chicago from the Committee on Social Thought and from the Department of Art History.  Her work examines contemporary visual art aesthetically and as a language of cultural communication and memory. Much of her research concentrates on transnational relations between art and people, focusing on the United States and China.
APPARATUS is supported by the Drake Department of Art and Design, Friends of Drake Arts, and the Jules Kirchenbaum Fund and Anderson Gallery Endowment Funds.
About the Anderson Gallery
The Anderson Gallery was established in 1996 as a dedicated space for the exploration of contemporary art and design. Additionally, the gallery hosts curated exhibitions of historically significant work, as well as annual showcases of student work from the Department of Art and Design. A not-for-profit branch of the Department of Arts and Sciences at Drake University, the gallery occupyes a versatile 1800 sq. ft. space on the first floor of the Harmon Fine Arts Center.
The Anderson Gallery is open Tuesdays, Wednesdays, and Friday through Sunday, 12 p.m. to 4 p.m.; and extended hours on Thursdays from 12 p.m. to 8 p.m. The gallery is closed on Mondays and during University holidays. For more information, contact 515-271-1994 or visit https://theandersongallery.wordpress.com/
.