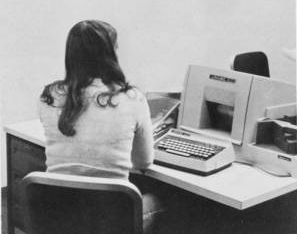 Drake was at the forefront of a technological revolution with its early incorporation of computers on campus. Take a look back at how evolving technology helped—and sometimes bugged—Drake students.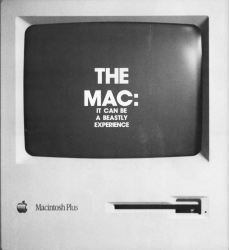 The glowing white apple on the backs of student's laptops is now a familiar sight on campus. This wasn't the case in the early 70s when computers at Drake were rare. Students had limited access to the few scattered around campus. Computer science students and others could use a computer lab set up in the Dial Center. Drake didn't own the machines, however. The lab was leased for over $15,000 a month from the Control Data Corp.
In preparation for the 1980-81 academic year, Drake bought two new VAX computers, one for students and the other for administrators.
Yet, the computers' security was flawed. To demonstrate the vulnerability to the public, the news network KWWL paid some "Iowa College" students in pizza and soda to break into Drake's systems in 1984. They did, leaving the message, "We are far outside your realm. Faithfully yours, the New Overlords." While there was no lasting damage, Drake shut down the system for a few days to strengthen security. National concern with education institutions' systems grew, and then-Drake president Wilbur Miller testified before a congressional subcommittee on the issue.
Drake President Michael Ferrari started his tenure in 1985 with the intention to make Drake a "computer-intensive" campus. Under his leadership, Drake entered into a formal agreement with Apple to bring more computers to campus—one of only eight universities with such a partnership. In 1986 Drake founded a retail computer store in an era before Apple Stores by revamping the Dial Center as a computer shop, selling both Apple and Microsoft products.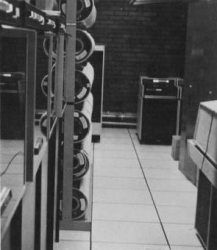 Apple's iconic Macintosh personal computers were instantly popular on campus. They were prominently featured in Drake's famous six minute MTV commercial. Professor of psychology William Klipec summed up the Mac craze in a 1987 Times Delphic article, saying, "The Macs are the greatest thing since canned beer."
However great the partnership, the technology was imperfect, as the Quax staff learned late one night in 1988. In the middle of an all-nighter, a staff member lost her story midway through typing. To vent her frustration, she went outside and let out a "primal scream." Feeling a bit better, she returned to work. A few minutes later, a campus security guard showed up to investigate. The staff sent him off with an explanation and apple fritter.
There were other instances of frustration throughout computer history at Drake—delayed grades, registration challenges, and so on. Still, in 1990 Drake showcased the technology as one of six satellite locations for Apple's Mac Fest, a precursor to Apple's current WWDC. Both of these conferences are where the company unveils their newest products. The event was broadcasted and partially recorded in Parents Hall. Three Drake students were shown onscreen using Apple products.
Drake today recommends a mix of Apple or Windows computers to incoming students depending on their major. The University continues to try to ensure students have the technology they need to be successful.