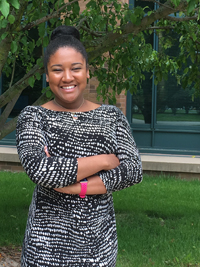 As a California native, Torii Millet never pictured herself in Des Moines, Iowa.
But when her husband was relocated to Iowa for his job, Millet turned to Drake Law School to achieve her dream of becoming a lawyer. Although she was excited about the chance to attend law school in Iowa's capital city, she wondered how she would adjust to the move.
"I received my undergraduate degree from UCLA, which has a huge student body," Millet explains. "I was nervous about making new friends on a smaller campus."
However, after she was admitted to Drake Law School her concerns disappeared.
"I was getting calls and emails from faculty as soon as I was accepted to Drake Law School," Millet says. "Things are much more personalized here."
Once at Drake, Millet easily adapted to the Law School community. She connected with classmates and got involved in a number of student organizations, including the International Law Society and Drake Law Review.
She quickly rose to leadership positions, serving as a member of the executive board of Drake's Black Law Student Association and as vice president of the Drake Agricultural and Environmental Law Association.
Before long, Millet made an impact on her professors. As a first-year student, she was selected for a teaching assistant position when Drake hosted the Council on Legal Education Opportunity, Inc. (CLEO) Pre-law Summer Institute in July 2016.
Another faculty connection led to a clerkship offer with Iowa Supreme Court Chief Justice Mark Cady after she graduates in May 2018.
"Drake Law professors definitely have an open-door policy," Millet says. "I can approach any professor and feel comfortable asking for advice."
As Millet began adjusting to life as a law student, she felt more comfortable in the Des Moines area and all it has to offer. She enjoys local entertainment and food, and she started bicycling with her husband on the city's many trails.
Making a home in Iowa was never on Millet's radar. But now she and her husband plan to make their stay long term.
In fact, Millet has already accepted an associate position at the Davis Brown Law Firm in Des Moines after her Iowa Supreme Court internship ends in 2019.
"When we moved to Iowa, my husband and I planned to relocate after law school. But now we want to settle here," Millet says. "We've found friends and success in Des Moines, and I'm really happy we came here."