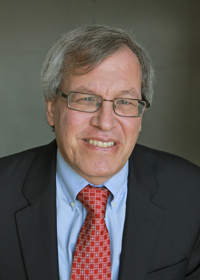 Can free speech coexist with an inclusive campus environment?
Erwin Chemerinsky, dean and Jesse H. Choper Distinguished Professor of Law at the University of California-Berkeley School of Law, will discuss this issue at the 2017 Constitution Day Lecture on Sept. 14, 3-4 p.m., in Cartwright Hall, Room 213.
Sponsored by the Drake Constitutional Law Center, the Constitution Day Lecture is held each year to commemorate the signing of the U.S. Constitution on Sept. 17, 1787. The event is free and open to the public.
This year's lecture is titled "Free Speech on Campus"—the same name as Chemerinsky's upcoming book published by Yale University Press (with Howard Gillman).
The issue of free speech on college campuses has been a topic of national discussion in recent years. Colleges are under pressure to censor hateful and bullying expression and to protect students by ensuring an inclusive and nondiscriminatory learning environment. On the other hand, some claim these efforts coddle students and threaten their free speech rights.
In the lecture, Chemerinsky will discuss the importance of providing a supportive learning environment for a diverse student body, while respecting the free expression of ideas.
"What makes his appearance especially appropriate is that Dean Chemerinsky comes from a university that has made national news because of its internal disagreements over this topic, so this is not just an abstract issue to him," said Mark Kende, the James Madison Chair in Constitutional Law and director of the Constitutional Law Center.
"The topic of free speech on campus has also been discussed in the Drake community," Kende added. "It should be a good learning experience, and Dean Chemerinsky is a great speaker."
Chemerinsky became dean of Berkeley Law on July 1 and teaches Constitutional Law, First Amendment Law, Federal Courts, Criminal Procedure, and Appellate Litigation. He was named the most influential person in legal education by National Jurist magazine earlier this year.
Previously, Chemerinsky served as the founding dean, distinguished professor of law, and Raymond Pryke Professor of First Amendment Law at the University of California, Irvine School of Law. He has also taught at Duke University and the University of Southern California Gould School of Law.
Chemerinsky is the author of more than 200 law review articles and 10 books, including The Case Against the Supreme Court, published by Viking in 2014, and Closing the Courthouse Doors: How Your Constitutional Rights Became Unenforceable, published by Yale University Press in 2017.
In addition, he writes a weekly column for the Sacramento Bee, monthly columns for the ABA Journal and the Daily Journal, and op-eds in newspapers across the country. He frequently argues appellate cases, including in the United States Supreme Court.
The lecture has been approved for 1.0 hour of State CLE (Activity Number: 269917).
---
The Drake Constitutional Law Center is one of only four constitutional law programs established by the U.S. Congress and funded by the federal government. The center's mission is to foster study of the U.S. Constitution and its roots, formation, principles, and development.
Learn more about the Drake Constitutional Law Center.