Welcome back to campus, from the SJMC faculty and staff!
The SJMC Monday Memo is a weekly newsletter to keep members of the wider SJMC community updated on School news, achievements, events and opportunities. If you have an item for the Memo, please send it to Dean Kathleen Richardson (kathleen.richardson@drake.edu) or  SJMC webmaster and multimedia professor Chris Snider (christopher.snider@drake.edu). SJMC alums and other professionals can also contact Chris to have the Memo delivered via weekly email. 
Student work honored by AEJMC
Drake student work won nine awards, including best website and magazine, in this year's Association for Education in Journalism and Mass Communication magazine contest. The awards were:
Best website: The senior capstone multimedia project Urban Plains
General excellence: Drake Magazine 
First place for editorial content: Drake Magazine
Second place for design: Drake Magazine
First and second place for new magazine prototypes
Two second-place awards and a third-place honor for writing
The judge of the general excellence category, a Vanity Fair editor, said of Drake Magazine: "This entry is exceptional for many reasons—its design, its photography, its story selection and presentation. It is a well-edited magazine in every sense of the word. . . . Every element feels considered and deliberate. . . . This magazine hits on all cylinders."
The awards were presented at the AEJMC conference on Aug. 11 in Chicago.
PR students win national AWC awards
Drake student public relations work has won a professional category in the national Association for Women in Communications 2017 Clarion Awards contest.
PR students' 2016 senior capstone campaign to promote the community of Manning, Iowa, beat professional PR entries to win the Community Relations category.  The Manning work also won the student PR campaign category. Work that a public relations writing class did for community client Easter Seals also won an award.
The AWC reported that the contest attracted hundreds of submissions. Three of the five Drake entries won. The awards will be presented at the national AWC conference in Dallas in September.
Notes from Mallory's office
The dean's assistant, Mallory Quinn, reminds you: The last day to add a class is Friday, Sept. 1, and the last day to drop without a W is Monday, Sept. 11.
Check on internship opportunities
Stop in to Meredith 120 to meet internship coordinator Carlyn Crowe and learn how you can find out more about the many internship opportunities available for SJMC students. You can keep up with the latest by subscribing to our jobs blog, Drake Media Gigs.
Laptops available for checkout
Drake Information Technology Services is piloting a self-service laptop kiosk in the front lobby of Meredith Hall. Students, faculty and staff can borrow one of 14 Macbook Pro laptops for up to four hours for free. Laptops are available to check out with a Drake ID during building hours.
2017 graduate featured in Des Moines Business Record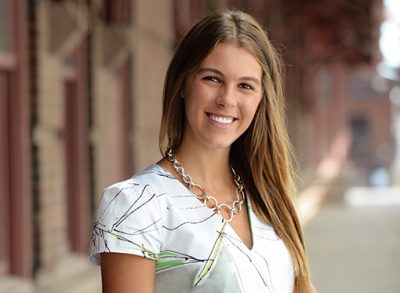 May 2017 public relations graduate Jessica Campbell was featured in the cover story of the Aug. 18 issue of the Des Moines Business Record, which discussed "Understanding Gen Z." Jessica is an electronic banking specialist at Bankers Trust Co. and also is the student coordinator for the Young Professionals Connection in Des Moines. 
The School of Journalism and Mass Communication strives to create a community of scholars that represents the complexity of the human experience in regards to race, ethnicity, sex, sexual orientation, economic status, gender identification, religion, age and physical abilities. We are committed to creating a welcoming and supportive environment for all our faculty, staff, students and visitors, and celebrating our differences through the lens of the First Amendment value of freedom of expression.