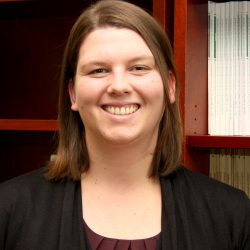 The Drake University School of Education recently announced Sacha Pence has been named director of Drake's applied behavior analysis program, effective August 21, 2017.
Pence is a certified behavior analyst with a passion for teaching and a range of experience working directly with children who demonstrate challenging behaviors, including children with autism. She has diverse clinical training in settings including public schools, residential treatment centers, mental health agencies, and outpatient clinics.
She most recently served as assistant professor of psychology at Auburn University, where she taught courses in applied behavior analysis. Her research emphases are related to best practices in the training of behavior analysts to design clinical interventions that can be consistently and effectively implemented in a variety of environments.
"Sacha Pence will be a strong leader for our new graduate program in applied behavior analysis," said Associate Professor Robyn Cooper, director of Drake's doctoral program in education leadership and chair of the search committee. "It was a very competitive search with a number of highly qualified candidates, but Sacha quickly rose to the top of our pool of applicants due to her extensive experience in applied behavior analysis and working with graduate students."
Pence earned her doctorate in psychology, with an emphasis in behavior analysis, from West Virginia University in 2012. She received a master's degree in applied behavior analysis from Northeastern University in 2007, and bachelor's degrees in psychology and biology from Northern Michigan University in 2004.
She is a member of the Association for Behavior Analysis International, the American Psychological Association, and several state and regional associations for behavior analysis. She has delivered more than 20 presentations at professional conferences.
"Sacha's academic pedigree, as well as her commitment to the application of behavior analysis in varied populations, makes her a great addition to the Drake University faculty," said Sean Peterson, clinical director at the Pier Center for Autism in Sioux City. "Her focus on practitioner training makes her a vital piece of the clinical puzzle that has been missing in the state of Iowa."
Drake's graduate-level program in behavior analysis launches in fall 2017 with courses toward a master's degree and professional certificate. Students who complete the program will be prepared to sit for the exam to become a Board Certified Behavior Analyst (BCBA).
Many of the program's graduates are expected to work in Iowa's schools and clinics, where there is a high demand for certified behavior analysts to work with children with significant behavior challenges. There are about 100 BCBAs employed in the state and estimated 22,500 Iowa children with significant behavior challenges, including as many as 12,000 children with autism.
"There's definitely a need for ABA programs and practitioners in Iowa and the Midwest," said Pence, who grew up in Michigan. "I look forward to getting back to the Midwest and being part of the Drake and Des Moines communities, and being able to develop a new behavior analytic training program."