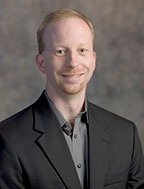 Eric Saylor, professor of music history at Drake University, has published a new book that seeks to redeem a style of music that he says is gravely misunderstood and sorely underrated.
English Pastoral Music: From Arcadia to Utopia, 1900-1955 was published June 26 by the University of Illinois Press. Saylor spent five years researching and writing the book, which puts a sharper definition on the genre of pastoral music and argues for the genre's often overlooked progressive features.
"Because pastoral music didn't sound like what most people would think of as 'modern' at that time, it was dismissed as very conservative and old-fashioned," Saylor said. "But this is actually music that is incredibly engaged with attitudes and practices of the early 20th century, with composers responding to events like the First World War."
The musical style often borrows on literary references from ancient Greece and musical practices influenced by Tudor-era church music and French impressionism. Critics of the day often dismissed those elements, as well as the music's emphasis on sweeping melodic beauty,  as dated and reactionary, but Saylor says that's just not the case.
"Several of these composers fought in the war or experienced the war, and are trying to recreate their experience in a way that isn't sentimental or experimental," Saylor said. "They were trying to reintroduce beauty back into the world… How do you try to create something beautiful after you spend years in No Man's Land?"
To build his case, Saylor uses a combination of direct and circumstantial evidence. In some instances, a piece's title or lyrics make direct reference to pastoral influences; or letters by the composer to a friend, colleague, or loved one reveal the intent for the piece. (In a letter written to his future wife in the 1930s, Ralph Vaughan Williams wrote that his Third Symphony ("A Pastoral Symphony") was not about rolling hills, but instead about his experience as a soldier serving in France, recovering the wounded and deceased from the field of battle.)  Other times, Saylor looks at contextual clues, such as changes in a composer's style that align with major historic or personal events, to make inferences about the composer's intent.
Saylor, who joined the Drake faculty in 2003, specializes in British art music of the 19th and 20th centuries, focusing particularly on the life and works of Ralph Vaughan Williams and Frederick Delius. He previously coedited Blackness in Opera (University of Illinois Press, 2012), which examines the intersections of race and music in the multifaceted genre of opera, and The Sea in the British Musical Imagination (The Boydell Press, 2015), which discusses the sea's significance within the complex world of British music.
He earned a bachelor's degree in violin studies from Drake in 1996, and went on to earn a master's and doctorate in musicology from Arizona State University and the University of Michigan, respectively.
Saylor hopes English Pastoral Music: From Arcadia to Utopia, 1900-1955 will create renewed interest in what he calls "probably some of the most beautiful music you've never heard." It has certainly enriched his own appreciation of the music and of British history.
"I think pastoral music is incredibly beautiful and hugely underrated in how powerful it is, how effectively written, and how engaging," Saylor said. "This is my attempt to try to make a case that this is music worth researching, taking seriously, and performing today. They're not just pretty sounds, but they also have a much deeper, more powerful meaning that captures important aspects about British culture in the early 20th century."