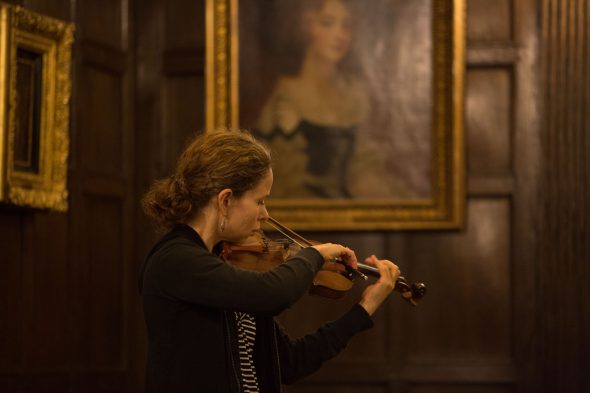 Zenith Chamber Music Festival returns this summer with free chamber performances by local and international artists in some of central Iowa's most attractive venues.
The family-friendly festival runs August 15-19 in venues including the Salisbury House, Jasper Winery, Johnston Public Library, St. John's Lutheran Church, and Drake University's Sheslow Auditorium.
Now entering its third year, Zenith complements Des Moines' many pop and rock music festivals, filling the summer air with a burst of fresh styles. Each evening's performance is different from the one before, with repertoire that balances traditional classical music with klezmer, jazz, and other diverse musical styles.
"We're delighted once again to invite the community to join us for the Zenith Chamber Music Festival, which brings classical music out of the traditional concert halls and into the community for an exceptionally accessible and memorable experience," said Artistic Director Ashley Sidon, the Briggs Endowed Professor of Cello at Drake University.
Performance dates, times, and locations are as follows:
Tuesday, Aug. 15, 7:30 p.m.: Salisbury House, 4025 Tonawanda Dr.
Wednesday, Aug. 16, noon: Sheslow Auditorium, 2507 University Ave.

Young artist masterclass: Select Iowa students will perform, then be taught by Zenith's featured artists.

Wednesday, Aug. 16, 6:30 p.m.: Johnston Public Library, 6700 Merle Hay Rd.

featuring the Damani Phillips Quartet

Thursday, Aug. 17, 6 p.m.: Jasper Winery, 2400 George Flagg Pkwy.
Friday, Aug. 18, 7:30 p.m.: St. John's Lutheran Church, 600 6th Ave.
Saturday, Aug. 19, 7:30 p.m.: Sheslow Auditorium, Drake University, 2507 University Ave.
Featured national artists include Anna Reider, first violinist of the Cincinnati Symphony Orchestra; violinist Helen Hwaya Kim; Anthony Kitai, cellist with the Houston Symphony; pianist Kelly Kuo; Sheldon Person, violist with the Houston Symphony; and Ashley Sandor Sidon, cellist at Drake University.