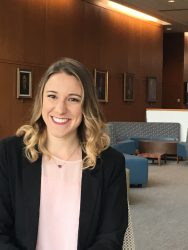 On June 19, Jenna Bishop received the Iowa State Bar Association Award, an honor given to the graduating Drake Law student who shows the greatest promise of success in leadership in the Iowa Bar through service, attitude, and ability during law school.
Bishop's secret to success? Getting involved and making the most of her time at Drake Law School.
Originally from Des Moines, Bishop left Iowa after graduating from high school to earn her bachelor's degree from Creighton University. But after four years in Omaha, Neb., Bishop was called home to Des Moines to pursue a Drake Law degree.
"I was really drawn to the experiential programs offered at Drake through the legal clinic," Bishop explains. "Going into law school I was primarily interested in public policy, so I wanted to participate in Drake's Legislative Practice Center."
Through her participation in Drake's Legislative Practice internship, Bishop shadowed State Sen. Jeff Danielson, attending various closed-door caucus meetings and senate floor debates. But Bishop's work in the world of legislature did not stop her from becoming heavily involved in other Drake Law School activities.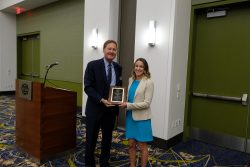 Bishop immersed herself in professional and social groups on campus, including Drake Law Women, Delta Theta Phi Law Fraternity, and Drake Law Democrats. She competed on both Negotiations and Client Counseling Moot Court teams while at Drake, and served as executive editor of the Drake Law Review as a 3L.
It was Bishop's heavy involvement in campus activities that allowed her to make critical realizations about her goals as a law student.
After gaining experience through the Legislative Practice Center and activities like the Moot Court competition teams, Bishop realized she wanted to shift her focus from public policy to private practice, and began an internship with Drake Law School's Transactional Clinic, where she helped clients establish nonprofit businesses.
"Drake Law School gave me opportunities to focus on my interests," Bishop says, "but it also allowed me to figure out what areas of law I didn't want to pursue."
Bishop graduated in May and is now deep in bar exam preparation. She has secured a position at Ahlers & Cooney, P.C., a Des Moines law firm, where she will combine her experiences in public and private sectors by advising and aiding public-sector clients with urban renewal and urban revitalization programs.
Bishop's work at Drake Law School has earned her praise within Iowa's legal community, but Bishop credits her engagement throughout law school for more than the foundation for a successful career.
"Most of my best friends are people I've met these past three years," Bishop says. "Law school has definitely been a lot of work, but if you put in the time and become involved at Drake, you can create one of the best experiences of your life."