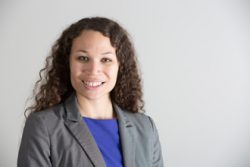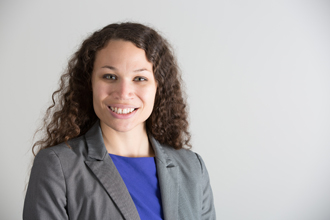 Erin Lain, associate provost for campus equity and inclusion at Drake University and associate professor of law at Drake Law School, has received the 2017 Gertrude Rush Award from the Iowa Organization of Women Attorneys (IOWA) and the Iowa Chapter of the National Bar Association.
The Gertrude Rush Award, established in 2003, is given annually to a lawyer who manifests the pioneering spirit of Gertrude Rush. In 1918, Gertrude Rush became the first African-American woman admitted to the practice of law in Iowa. She also co-founded the National Bar Association, which formed in response to the discriminatory admission policies of the American Bar Association.
The award recognizes individuals who demonstrate leadership in the community and in the legal profession, as well as a concern for human and civil rights.
"Erin Lain is dedicated to increasing diversity in the practice of law, and to encouraging law students to feel welcome to remain in Iowa for their legal careers," Judge Celeste Bremer said in her nomination of Lain.
Lain has committed her career to student services at Drake University and her responsibilities as associate provost focus on campus equity and inclusion. Before being selected as associate provost, Lain served as the assistant dean for academic services at Drake Law School for five years. Prior to becoming the assistant dean, Lain directed the law school's academic success program and was also an assistant director of admission.
As assistant dean, Lain secured grant funding that allowed Drake Law School to host the national Council on Legal Education Opportunity (CLEO) Pre-Law Summer Institute in 2011 and 2016. The CLEO program provides students from diverse ethnic, racial, socioeconomic, and geographic backgrounds with training and tools to ensure success in their legal education.
"In addition to teaching in the program, Lain ensured that the CLEO students had opportunities to visit the Iowa Supreme Court, along with state and federal district courts," Judge Bremer said. "The students met Iowa lawyers and experienced Iowa hospitality and as a result, several CLEO students chose Drake for law school, and Iowa for their legal careers."
Lain received her BA, JD, and PhD from Drake University and is an active member of the Iowa State Bar Association, the Polk County Bar Association, PCBA, IOWA and the ABA.
Drake Provost Sue Mattison noted, "Erin is an incredible asset to Drake University—she has a vision for equity, inclusion, and social justice on campus and in the community, and she works with energy and passion to achieve that vision. The Gertrude Rush award is well-deserved recognition of Erin's commitment and tireless effort."
"Lain is tireless in her commitment to increasing diversity at all levels of her profession," Judge Bremer said. "She demonstrates the spirit of Gertrude Rush in speaking truth to power."