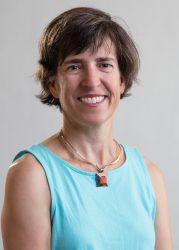 Lisa West, associate professor of English, co-organized the 20th anniversary symposium of the Catharine Maria Sedgwick Society, one of the first literary author societies to focus on the recovery of early American writings by prominent women writers of the 19th century.
Participants came from 19 states and three countries to attend the symposium, which was held June 7-11 in Stockbridge, Mass., and co-organized by Jenifer Elmore, associate professor of English at Palm Beach Atlantic University
"Where and When: Evolving Concepts of Place, Space, and Time in the Writings of Sedgwick and Her Contemporaries" included sessions on pedagogy, ethics of transcription and digital access, editing Sedgwick's short fiction and longer works, and scholarship on place and temporal studies. West also presented on geologic time and narrative time in Nathaniel Hawthorne's short fiction.
West has worked extensively on the writing of Sedgwick, who in the mid-late nineteenth century had an international reputation as one of the preeminent American writers, ranked with Nathaniel Hawthorne, James Fenimore Cooper and Washington Irving. Sedgwick was born into a powerful Federalist family in 1789 that was influential in local and national politics, education reform, and the Unitarian religious movement; she never married.
"Her writings show engagement with critical issues of her era, from education to gender roles to the separation between religion and the state," West said. "While not always radical by today's standards, her writings provide important historical and literary insight into antebellum and postbellum America."
West teaches courses on early American literature and environmental literature, among other topics. She studies early American literary culture, 18th and 19th century female authors, nature writing, and writings on "place." She received bachelor's degrees in English and environmental studies from Williams College and a doctorate in American literature from Stanford University.