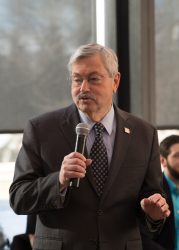 Drake Law School alumnus Terry Branstad, LW'74, the longest-serving governor in our nation's history, has officially been confirmed as United States Ambassador to China.
In confirmation hearings, Branstad told legislators he plans to leverage his decades-long relationship with Chinese President Xi Jinping to advance U.S. and international interests. The ambassador's longstanding relationship with Xi has enhanced cultural, educational, and business relationships between Iowa and China and fostered numerous partnerships between Drake University, Drake Law School, and numerous individuals and organizations in China.
"Governor Branstad received our Alumnus of the Year Award last year," noted Drake Law Dean Jerry Anderson, "and we congratulate him on this new achievement. He has been a great friend of the law school over the years."
A native of Leland, Iowa, Branstad received his undergraduate degree from the University of Iowa and his law degree from Drake Law School. He also served in the United States Army.
Branstad was elected to the Iowa House of Representatives in 1972, while he was a student at Drake, and served three terms. He went on to serve as the lieutenant governor of Iowa from 1979-1983.
In 1982, at the age of 35, Branstad became Iowa's youngest serving governor. He served as the state's chief executive from 1983 to 1999, breaking the record of Iowa's longest serving governor. During this time, he weathered some of Iowa's worst economic turmoil, including the farm crisis of the 1980s. Following his four terms as governor, Branstad took a short break to work as a lobbyist and later became president of Des Moines University (DMU) for six years. He was re-elected as governor in 2010, and with more than 22 years heading Iowa government, Branstad, now 70, is the country's longest serving governor.
In his new role as ambassador to China, Branstad plans to work closely with Beijing on a range of topics, including human rights and trade. Branstad and Xi met in 1985 when Xi, at the time a party official in Hebei, led an agricultural trade delegation to Iowa.
Drake students and alumni have benefited from Iowa's close ties to China. In 2003, a visit to Hebei by then-Drake University President David Maxwell paved the way for Drake's Teach in China program, which offers recent graduates from any academic background the opportunity to live and work in China teaching English for one year. More than 100 Drake alumni have taught in Hebei; in total, more than 220 graduates of Drake and other nearby colleges and universities have taught in China.
In September 2016, Branstad met with 29 Chinese law students from the Southwest University of Political Science & Law (SWUPL) who were visiting Drake Law School as part of the first-ever Introduction to American Law and Legal System Program. The governor welcomed the students in his office and answered their questions about Iowa-China relations.
As a result of the program, SWUPL and Drake University entered into a partnership to create a Global Leadership Training Program that will bring SWUPL students to Drake Law School to pursue a Master of Laws (LLM) degree.
Branstad was named the 2016 Drake Law Alumnus of the Year and was honored at the Law School's 79th Annual Supreme Court Celebration Banquet in April 2016. Drake Law School's Alumnus/Alumna of the Year award dates back to 1984, with previous honorees including Chief Justice Mark Cady, Roxanne Conlin, Gov. Robert D. Ray, Judge Larry Eisenhauer, and more.
Iowa Governors With Drake University Affiliations:

Francis Marion Drake
Term: Jan. 16, 1896 — Jan. 13, 1898
Drake affiliation: Instrumental in the founding of Drake University, which was named after him
George Washington Clarke
Term: Jan. 16, 1913 — Jan. 11, 1917
Drake affiliation: Served as dean of Drake University Law School from 1917 to 1918
Robert Donald Blue
Term: Jan. 11, 1945 – Jan. 13, 1949
Drake affiliation: Earned a law degree (JD) from Drake University in 1922
Robert D. Ray
Term: Jan. 16, 1969 – Jan. 14, 1983
Drake affiliation: Graduated from Drake University with a business (BS in business administration in '52) and law degree (honorary LLD in '76); headed Drake's Board of Directors; was president of Drake University in 1998.
Chet Culver
Term: Jan. 12, 2007 – Jan. 14, 2011
Earned Master of Arts in Teaching (major: history) at Drake University in 1994
Terry Branstad
Terms: Jan 14, 2011 – present, 1983 – 1999
Earned law degree (JD) in 1974