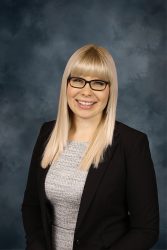 Third-year Drake Law School student Alexandria Quinn has been honored with a Medal of Excellence from the American Bankruptcy Institute (ABI) for her exceptional work in bankruptcy law.
The ABI, founded in 1982, is the largest association of bankruptcy professionals in the nation. Its Medal of Excellence program recognizes a select number of students who demonstrate excellence in bankruptcy coursework and scholarship.
"I have no doubt that Ms. Quinn will be an exceptional addition to the bankruptcy field" said Chief Bankruptcy Judge Anita Shodeen, who nominated Quinn for the Medal of Excellence. Quinn secured a judicial clerkship with Judge Shodeen after taking her bankruptcy class offered at the law school. After Quinn graduates, she will return to the Federal Courthouse to do a one-year clerkship with Judge Shodeen.
Quinn's focus on bankruptcy law began her first year at Drake Law School when she clerked for Sam Marks, LW'99, at Marks Law Firm. It was encouragement from Marks that led Quinn to connect with Judge Shodeen.
"This award came as a complete shock to me," said Quinn of her ABI Medal of Excellence. "My time working for Judge Shodeen has allowed me to grow and thrive in the world of bankruptcy law, and for someone I admire as much as her, as well as the ABI, to acknowledge my success in their field of expertise is extremely humbling."
Quinn's note on Chapter 12 Bankruptcy concerning family farming was published in the Drake Journal of Agricultural Law. Quinn served as the journal's 2016-17 production editor, and also served as the 2016-17 president of Drake Law School's Student Bar Association (SBA). She is a member of Drake Law Women and is a Drake Law School student ambassador.
Quinn, originally from Fort Dodge, IA, also received her Bachelor of Arts in Law, Politics, and Society and Rhetoric and Communication from Drake University in 2014.
In addition to receiving an engraved medal and certificate as a Medal of Excellence recipient, Quinn received a one-year ABI membership, which includes "high-quality conferences, comprehensive continuing education, effective legal research, and dynamic networking opportunities."
After finishing her clerkship with Judge Shodeen, Quinn plans to remain in Des Moines to practice bankruptcy law.
"Drake Law School, and specifically its alumni," said Quinn, "have been instrumental in helping me find my niche in the Des Moines legal community."