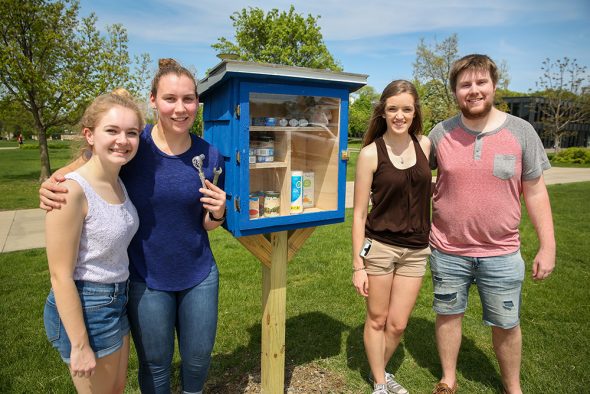 Free little libraries are sweeping our communities—cute wooden boxes from which patrons leave a book and take another, always at no cost. Now, a group of Drake University students is asking whether these "take one, leave one" community resources can nourish our bodies as well as our minds.
Drake students, under the direction of the Office of Community Engaged Learning and Drake's academic concentration in Leadership, Education, and Development (LEAD), have received a $10,000 Wellmark Foundation Community Kickstarter grant to create 10 little free food pantries in the Drake Neighborhood. The pantries will invite community members to donate or take free nonperishable food items at any time of the day or night. Drake officials believe these self-serve pantries, modeled after The Little Free Pantry program launched during summer 2016 in Fayetteville, Ark., will be the first of their kind in the  neighborhood.
The project is also working in collaboration with the Sprout: Des Moines Urban Youth Learning Garden, located on at the corner of 25th St and Forest Ave, with the purpose of providing free fresh produce to community members. Together, the two projects hope to make a dent in eradicating the food insecurity problem in the Drake Neighborhood.
The project will begin on Drake's doorstep with four pantries being installed on the outskirts of the campus. Installation for these four is expected to be completed on May 5, 2017. Then, during this upcoming fall, six other little pantries will be installed in safe and convenient locations throughout the Drake neighborhood. Students in a course called LEAD 100: Influence and Change coordinated installation of the pantries, developed a Facebook page, and managed other logistics of the project.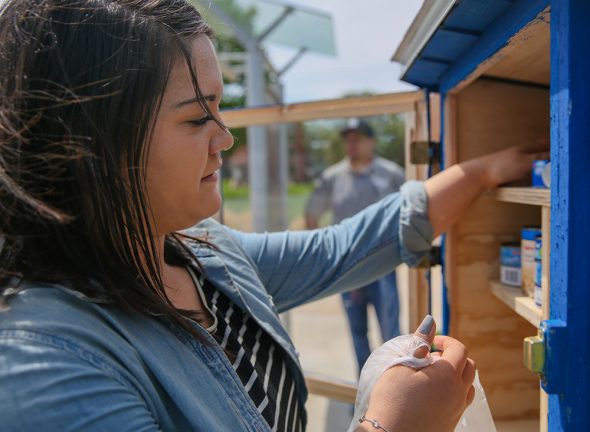 As many as 10,000 people in the Drake Neighborhood, particularly children, could benefit from greater access to free produce and non-perishable foods. According to the US Census (2010), the median income for households in the Drake Neighborhood was $36,996; well below the State of Iowa's average household income of $52,716.
Much of the neighborhood resides within a food desert—a USDA classification for an urban area where it is difficult to buy affordable or high-quality fresh food. Approximately 85 percent of residents report eating fewer than five servings of fruits and vegetables daily, and at least 11 percent of residents consume less than one serving of fruits and veggies daily.
Approximately 15 percent of families in the neighborhood receive Supplemental Nutrition (SNAP) Benefits. A local food pantry operated by the Des Moines Area Religious Council (DMARC) invites visitors three visits every 30 days.
"Having a little free pantry located within walking distance of their homes will fill the gap between SNAP assistance and DMARC pantry visits," said Renee Sedlacek, director of community engaged learning. Another goal of this Little Pantry project is to help build a sense of unity between the Drake students and the surrounding local community. Items that can be donated to the pantries include any non perishable food items such as canned goods and boxed dinners. Any produce, homemade goods, unsealed items, or refrigerated products should not be placed in the pantries. Basic household need items such as paper towels, toothbrushes, and toilet paper are also encouraged.
Join the initiative by following the project's Facebook page: Little Pantries–Drake Neighborhood. The page will allow community members to stay up to date on the installation progress and what needs to be done to help keep the pantries stocked and successful. Residents who are interested in hosting a pantry in their yard should contact Renee Sedlacek, Director of Community Engaged Learning, at renee.sedlacek@drake.edu.