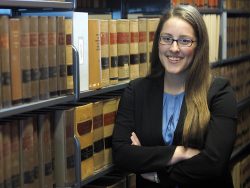 When second-year Drake Law student Erin Romar attended a Drake Constitutional Law Center lecture in September 2016, she had no idea that she would soon help to change the lives of victims of revenge porn in Iowa.
The lecture featured Mary Anne Franks, a professor at the University of Miami School of Law. She spoke about revenge porn, which is the act of posting or sharing sexually explicit content of an individual on social media without their consent, and with intent to harm that person.
When Franks explained that revenge porn was not criminalized in Iowa, several Drake Law students and faculty saw the need for legislative change. Romar and Julie Smith, director of the Drake Legislative Practice Center, took charge of making that change a reality, with support from Professor Andrea Charlow, Professor Laurie Doré, Professor Maura Strassberg, Jerry Foxhoven, executive director of the Neal and Bea Smith Legal Clinic, and Steve Foritano, recently retired bureau chief of the General Trial Bureau of the Polk County Attorney's Office.
The group drafted a bill to criminalize revenge porn in the state of Iowa and worked with Rep. Greg Heartsill, the bill's sponsor and legislative advocate throughout the process. While not a member of the legislative internship, Romar, with the help of fellow 2Ls Antonia Sicilia and Mallory Kesterson, spent several months researching, talking to victims, and working with legislators to promote the cause.
"This is an epidemic," Romar says of revenge porn. "The fact that women have gone to police, have gone to lawyers, have done what they can, and they feel that all that's left to do is suffer—there needs to be something done."
The bill traveled from subcommittee to full committee to floor debate in both the state House and Senate. After working with Rep. Heartsill and Sen. Julian Garrett to ensure the success of their bill, Romar saw her hard work pay off on April 19 when the bill passed through its final round of House floor debates. It will now go to the governor to sign.
Romar says the most rewarding part of the process is that victims of revenge porn in Iowa will finally receive protection by the law.
"I went to law school because I believe the law should help people," she explains. "If you have the authority and responsibility to do something, you should. If you know a law isn't right, you should change it."
Iowa is the 35th state in the United States to pass a law on revenge porn thanks to the hard work Romar has put into the cause, but she has no plans of slowing down anytime soon. She has just been offered a Polk County prosecutor internship for the summer, and she was recently elected network co-chair of Drake Law Women, a student organization that connects students and lawyers in the Des Moines area.
"These last few months have been a whirlwind," Romar says. "I applied to Drake Law School for the practical experience offered through the Neal and Bea Smith Legal Clinic, which I was able to do through the Juvenile Delinquency Clinic this semester. When pushing through classes becomes a little difficult, it's really helpful to have these opportunities as motivation so you see what you're working toward."
Romar will graduate in December 2017 and plans to pursue a career in prosecution, but her experiences at Drake Law School have already proven her worth in the legal community.
"At Drake Law School, we want students to not only understand what the law is, but also how it needs to change to make the world a better place," explains Jerry Anderson, dean of Drake Law School. "Erin's work on the revenge porn bill is a perfect example."