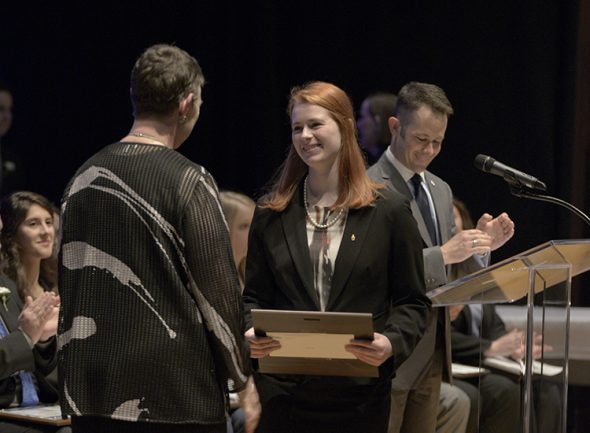 Nearly 800 people gathered in Sheslow Auditorium for the Drake University College of Business and Public Administration's annual awards ceremony on Wednesday, April 19. The ceremony honored the accomplishments of students, faculty, and alumni, with awards including the CBPA's junior and senior students of the year, undergraduate and graduate teachers of the year, and an outstanding faculty researcher.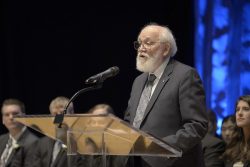 Bill Buchanan, BN'57, was the ceremony's keynote speaker and recipient of the CBPA Community Leadership Award. Buchanan, who earned his Drake undergraduate degree in actuarial science, is chairman of the board and owner of Unified Life Insurance Company. He has over 50 years of experience in the life, health and annuity industry, including extensive experience as both an actuarial consultant and insurance company executive. He is a fellow of the Society of Actuaries and a Charter Member of the American Academy of Actuaries.
Over the years, Buchanan has been a generous supporter of Drake, sharing his time and resources to support a number of initiatives, including as a member of the CBPA National Advisory Council. In 2009, Drake received a $3 million gift from Bill and his wife Jean to establish the William M. and Jean M. Buchanan Center for Entrepreneurial Leadership, which offers a variety of curricular and co-curricular programming to encourage entrepreneurship among our students. In addition to their support of the Center, the Buchanans have also contributed to other causes at the University. Bill Buchanan received the University's Alumni Loyalty Award in 2007.
The ceremony recognized hundreds of students for their accomplishments in academics, leadership, and community involvement, including about 250 graduating seniors, a variety of students who competed in academic and professional competitions, and students in 41 individual award categories. Eight seniors were honored for maintaining a perfect 4.0 grade-point average throughout their academic career.
Shayla Carey of Geneva, Ill., was honored as the CBPA Junior Student of the Year. Carey is a triple major in actuarial science, international business, and quantitative economics. During her time at Drake, she has interned with the Principal Financial Group, Allstate Insurance, and Farm Bureau Financial Services. Carey is active in the Alpha Kappa Psi business fraternity, has studied abroad in Austria, and conducted international business research.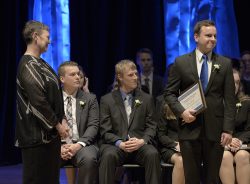 Peter Gorski of Huntley, Ill., was selected as the CBPA Senior Student of the Year. Gorski is majoring in actuarial science and information systems. During his time at Drake, he has interned with Country Financial and Securian Financial Group. He has been active in the Gamma Iota Sigma professional fraternity and was past president of Tau Kappa Epsilon, his social fraternity. Gorski also has served as a Peer Mentor/Academic Consultant to first-year students. After graduation, he will begin his career at Securian Financial Group in St. Paul, Minn., as an actuarial associate.
Numerous faculty members were honored for their hard work for the CBPA and Drake community. Highlights included top honors for undergraduate teaching, graduate-level teaching, and research.
Paul Judd, associate professor of practice in actuarial science, was selected as the David B. Lawrence Outstanding Undergraduate Teacher of the Year. Judd joined the CBPA in August 2003 after working for The Principal Financial Group. Within the college, he has taught a variety of actuarial science and statistics courses.
Ken Meyer, Thomas F. Sheehan Distinguished Professor of Public Administration, received the Outstanding Graduate Teaching Award. He joined the CBPA in August 1990. He teaches a wide variety of graduate courses within the college, especially within the public administration arena.
Chip Miller, Thomas F. Sheehan Distinguished Professor of Marketing, received the Harry Wolk Research Award. Dr. Miller earned his PhD at the University of Washington and joined Drake University in August 2001. He has undertaken and published research at a high level focused on international consumer behavior using complex data and analysis.
For more information, contact Annette Watson at annette.watson@drake.edu or 515-271-4715.