This year's Alumni Loyalty Award recipients, a trio of Knapp Center regulars, maintain strong ties with Drake and each other.
The vitality of a university is best viewed by examining the success and achievements of its alumni. Drake University and the National Alumni Association Board of Directors are proud to honor exceptional graduates each year during the Drake Relays. These awards recognize the significant contributions of our alumni to their alma mater, profession, and community.
This year's Alumni Loyalty Award winners are Jim Lyons, BN'70, GR'71; Dean Rowland, LA'74; and Bob Stuyvesant, BN'69, LW'74. The three Bulldogs are brought together by their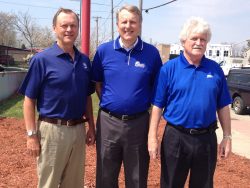 love of sports and commitment to Drake University.
Lyons and Stuyvesant met at Drake 50 years ago and formed a friendship with Rowland through another alumnus a decade later. All three continue to serve their alma mater in myriad ways, and each has held Drake Men's Basketball season tickets for more than four decades.
"We have been friends for 40-plus years," says Rowland. "Our Drake connection has always been a strong underlying theme throughout our lives and friendship. I truly value the education and all the friendships I developed at Drake University."
The trio has joined other Drake fans at the Knapp Center for the majority of their friendship, cheering on both men's and women's basketball teams as members of the Bulldog Club. When the men aren't watching sports, they're playing them. They've been part of the same group of friends that has played basketball, softball, and now golf for almost half a century.
The group demonstrates their loyalty to the University by their membership to the President's Circle. They also each have a loved one who has graduated from Drake. Lyons' son Joseph, BN'13, earned an undergrad degree from Drake and is a current MFM student. Rowland's wife, Margie, is a Drake graduate, ED'76. Finally, Stuyvesant's son, Jason, is also an alumnus of the University, BN'03.
To learn more about the men's individual successes and contributions to Drake University or other award winners, visit our alumni.drake.edu/2017-alumni-award-recipients.